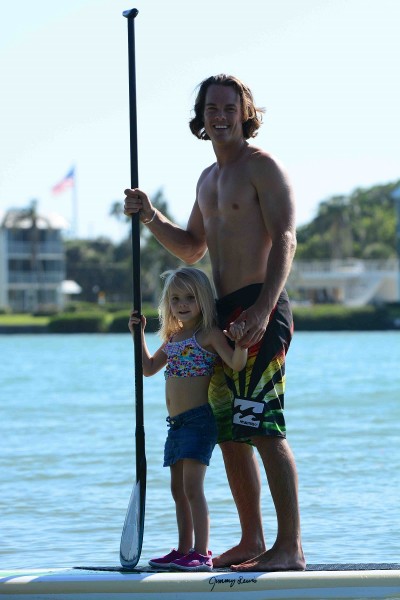 Among the hundreds gathered at the Lake Worth Inlet to welcome Travis Suit and his three companions at the conclusion of their Bimini to Palm Beach County crossing will be Suit's 5-year old daughter, Piper—the inspiration behind his record attempt to cross the mighty Gulf Stream on stand-up paddleboards.
The goal behind this Crossing-For-A-Cure is to raise revenue and increase awareness for cystic fibrosis, the most common chronic lung disease in children and young adults. Piper Suit was diagnosed with cystic fibrosis in November 2011 after numerous doctors first diagnosed her symptoms as normal childhood illnesses.
"It was the worst feeling in the world. As a parent, you live to keep your child healthy and happy, so to be in the dark for so long was torture," said Suit, who resides in West Palm Beach. "Each doctor's appointment got more disheartening, until finally someone suggested to get her tested for CF. To say that it is a relief to find out your child has a terminal illness sounds terrible, but that's the kind of mixed emotions your mind is processing, and it takes its toll. The seas may be rough, but at last at that point you have a beacon of hope for helping to make a difference."
So far, according to Suit, collected pledges of some $12,000 have already gone to the Fort Lauderdale Chapter of the Cystic Fibrosis Foundation. Additional monies raised as a result of the Crossing-For-A-Care event will go to the Palm Beach Chapter.
The plan is to push off from the docks of the historic Bimini Big Game Club Resort & Marina in the late afternoon on August 2nd (weather conditions permitting) and paddling ten hours due west and then adjust to a north/northwest direction to target an arrival some 24 hours later at the Lake Worth Inlet near Peanut Island.
"Two watermen last year made the crossing from the Bimini Big Game Club to Haulover Beach in Miami Beach in just over 17 hours, so we know its possible," said Suit, a rodeo bull-rider, Marine Officer Candidate School Grad and surfer. "Our crossing will have a chance to set a world record—longest distance (90 miles) on a paddleboard in 24 hours."
Crossing with Suit will be local paddlers Shane Pompa, Joseph Morel and Kyle Igneri. The men, referred to as "Piper's Angels," were captivated by the cause and Suit's passion, volunteering to not only join for this journey, but to partake in an upcoming documentary on parents and how to deal with children diagnosed with cystic fibrosis.
Sponsors for the crossing include Tropically Impaired, Paddle Boarding Palm Beach, Sun Bum, Iron Lion Fitness Studio, Tito's Handmade Vodka, Venture Boat Company, Jimmy Lewis, Reflekt, NEILPRYDE, Power Design, Keiser University, Voigt Sports and Blueline Stand-Up Paddle Surf & Clothing.
For more information on Crossing-For-A-Cure, visit www.crossingforacure.com. For information on the Cystic Fibrosis Foundation, visit www.cff.org. Bimini Big Game Club Resort & Marina www.biggameclubbimini.com.
Image courtesy Crossing for a Cure