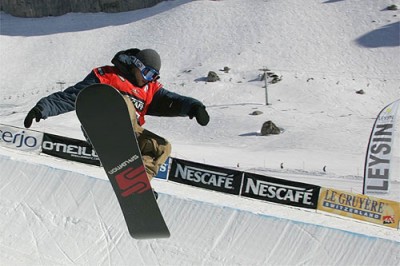 The Crash Reel is set to premiere tonight on HBO, which tells the story of professional snowboarder Kevin Pearce after he procured a traumatic brain injury (TBI) following a fall in 2009. Directed by Lucy Walker, who has been nominated for an Oscar twice in her career, the film follows Pearce in his struggle after the accident to readjust to life and questions whether or not he will ever compete again, despite the danger involved.
While promoting one of her other films, Waste Land, at a Nike event that catered to top-sponsored action sports athletes, Walker met Pearce and his brother Adam.
"It was [the] early days after his accident and Kevin's head was shorn, his eyes were looking different directions, he couldn't read or stay awake for long, he kept re-introducing himself to me because his memory was so impaired he couldn't remember that we'd just been talking–and yet he still had a star quality," Walker said on the film's website. "I found him completely charming and compelling and was drawn to talk to him and Adam as much as possible."
Pearce's injury was sustained on New Year's Eve in Park City, Utah when he was in training before a competition. At the time, his nemesis was Shaun White, and the two were preparing for the 2010 Olympics. Pearce was attempting a cab double cork on a half-pipe when the fall occurred.
"Kevin's story is an exemplary study of risk and reward. Snowboarding is a breathtakingly beautiful sport and those who excel at it are modern-day demi-gods, bringing humans closer to the art of flight, and garnering praise, adulation, and fortunes in lucrative sponsorships wherever they go," Walker said on the website. "And yet their lives are fraught with danger. The risks they take to get to the top are truly extreme. And I was horrified to learn that the crashes become viral hits on YouTube. What innate response do extreme [sports] trigger in us?"
According to the website, "This eye-popping film seamlessly combines twenty years of stunning action footage with new specially-shot verité footage and interviews as it follows U.S. champion snowboarder Kevin Pearce and exposes the irresistible but potentially fatal appeal of extreme sports."
The film first premiered at the Sydney Film Festival in the beginning of June and has been shown at more than 10 events since, with many to-be-announced dates over the next several months. Tonight's premiere on HBO will air at 9 p.m. (ET, PT) and 8 p.m. (CT) with a number of other play dates scheduled after.
"Kevin's tight-knit Vermont family flies to his side and helps him rebuild his life as a brain injury survivor," Walker said on the website. "But when he insists he wants to return to the sport he still loves, his family intervenes with his eloquent brother David speaking for all of them when he says, 'I just don't want you to die.' Kevin's doctors caution him that even a small blow to the head could be enough to kill him. Will Kevin defy them and insist on pursuing his passion? With his now impaired skills, what other options does he have? How much risk is too much?"
Since his fall, Pearce has gotten involved in even more organizations, many of which are being promoted along with the film. He is a sports ambassador for the National Down Syndrome Society (his brother David was born with Down syndrome), is an advocate for research and education surrounding TBIs, and the group FRENDS.
Walker has also directed Devil's Playground, Blindsight, Countdown to Zero, Waste Land, and The Tsunami and the Cherry Blossom.
Image from Roland Zumbühl on the Wikimedia Commons