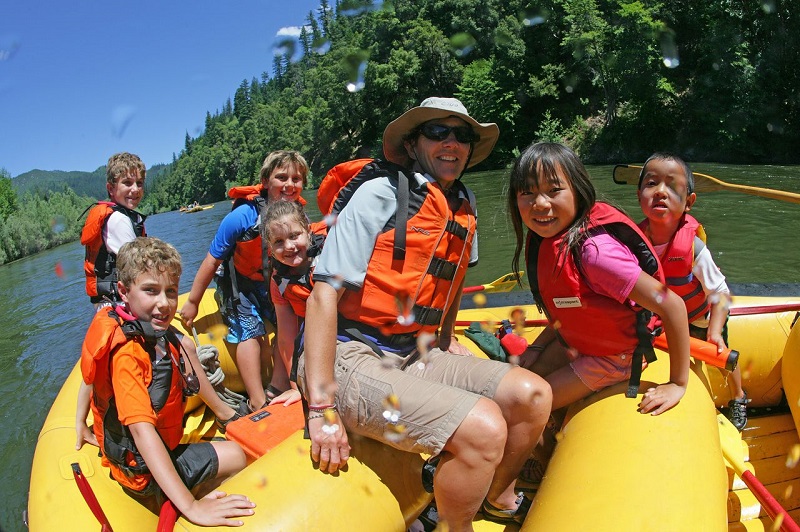 Veteran river outfitter and nature-based adventure travel company O.A.R.S. (http://www.oars.com/) accommodates kids age four years and up on family rafting trips in Utah this season, charging them with river currents on easy-to-moderate Class II & III rapids – and away from electronic devices.
O.A.R.S. family rafting adventures in Utah range from a single day to nearly a week for children and adults of all ages. Three-day trips on the Green River through Flaming Gorge are perfect for first-time rafters and young families with kids as young as four years. Three- to five-day trips on the Green River through the Gates of Lodore in Dinosaur National Monument and on the Colorado River through Cataract Canyon in Canyonlands National Park are appropriate for ages seven or older. One-day rafting trips on the Green River through Split Mountain Canyon in Dinosaur National Monument are ideal for ages six and up.
Trips start at just $99/day for adults and $76/day for youth 17 years and under. All programs are inclusive of high-quality inflatable rafts and may include inflatable kayaks and stand up paddleboards, plus related river equipment—paddle, helmet and personal flotation device, and skilled, professional guide services. Overnight trips include catered camping, all meals from lunch on the first day through lunch on the last day, two-person shared tents and transfers to and from the river.
Best of all, there are no video games, no cell phones and no electronic distractions on a river trip, so kids find "new" ways to have fun. Each family trip includes a designated "Fun Director" and a selection of games and activities to help educate, entertain and energize all the youngsters aboard.
"O.A.R.S. has been offering family adventure vacations for more than 40 years. We know that parents want their kids to have the time of their lives but they also need to be relaxed enough to be able to appreciate their enthusiasm and delight," notes Steve Markle, company spokesperson. "With O.A.R.S., moms and dads are encouraged to rediscover that adventurous, easy-going parent inside—the one who only comes out to play when somebody else is shouldering the responsibilities and taking care of all the details."
Markle recommends these Utah rafting excursions for families this summer:
Markle notes that "O.A.R.S. Flaming Gorge, Split Mountain and many of our Lodore trips are operated by our sister company, Don Hatch River Expeditions, which has a long history as the first river outfitter in the country."
Dinosaur National Monument became the birthplace of modern river running in 1929 when legendary river runner Bus Hatch established Hatch River Expeditions in Vernal, UT. Today it remains home to the most visually stunning one-day river trip in North America—The Green River through Split Mountain Canyon—as well as one of the West's premier family-friendly multi-day river trips—The Green River through the Gates of Lodore. The area offers spectacular desert landscapes, towering canyon walls, fascinating geology and natural history, a colorful Wild West heritage, and some of the West's most untrammeled river ecosystems.
For more information, availability, reservations and a copy of the 2013 O.A.R.S. Adventures catalog call 435-259-5865 or 800-342-5938, email [email protected], or visit: http://www.oars.com/utah.
Image courtesy Don Hatch River Expeditions