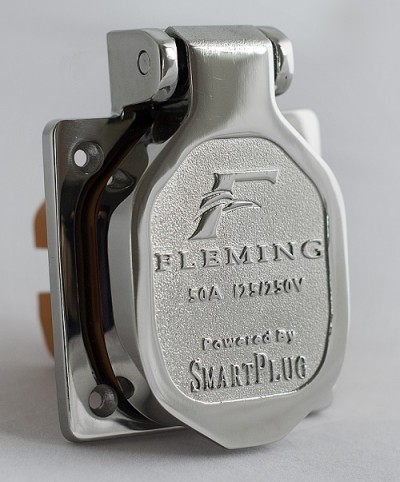 Continuing to revolutionize the boating industry with its innovative shore power solutions, SmartPlug Systems has partnered with another worldwide boatbuilder. Fleming Yachts has chosen SmartPlug's 50 amp product as the shore power product for its classic, low profile motoryachts.
"Fleming Yachts has been recognized as a high quality boatbuilder in the marine industry for many years. We're very pleased they have chosen SmartPlug as a shore power supplier," said Ken Smith, SmartPlug creator and owner. "Fleming Yachts will be increasing their brand awareness by displaying their logo on our cast stainless steel inlet covers, which is a unique option offered by SmartPlug for boatbuilders."
SmartPlug currently offers 30 and 50 amp connectors, inlets and power cords. The SmartPlug's asymmetrical sleeve design is easier to use and is designed to have the body of the connector bear the tension from the shore power connection, rather than the electrical pins. This keeps those points of electrical contact secure. SmartPlug's three weatherproof seals eliminate any moisture intrusion, ensuring a safe and dry connection. Two locking side levers on the connector as well as two points of contact on the locking cap ensure a rock solid connection. When not in use, the cap can be closed to form a weatherproof seal on the inlet.
For more than 25 years, construction of Fleming Yachts has taken place at the Tung Hwa boat yard in southern Taiwan. Flemings are sold through a network of authorized dealers in the United States and Europe and agents in Australia and New Zealand. Designed for serious cruising, Fleming builds the ultimate cruising/live-aboard yachts capable of being handled by a couple and with comfortable accommodations for occasional guests. Flemings feature a true pilothouse configuration.
Image courtesy SmartPlug Systems