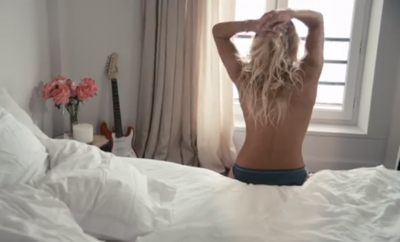 On June 26, Australian surfwear company Roxy published a video on YouTube to promote the Roxy Pro Biarritz competition in France that began today. Since its release, Roxy has faced attacks from critics about the video, with some noting its apparent sexual imagery and alleging the clip lacks an actual connection to the sport.
Featuring a female surfer whose face is not shown throughout the entire video, the scenes span from her dressed in only underwear in bed, in the shower, and finally with her on a beach preparing to surf. Roxy, which is owned by the larger company of Quiksilver, defended the ad and stated it was being misunderstood. The surf company used the hashtag #WhoAmIJustGuess to entice its audience to get involved with not only the promotional video, but the competition itself.
On Monday Roxy released a follow-up video revealing the surfer in the video was Stephanie Gilmore, who just joined the Roxy Surf Team.
"Obviously, there's been much conversation around the video we recently released," Roxy stated. "We believe all athletes are naturally beautiful, in and out of the water. You certainly don't have to be sexy to be an athlete, and we also believe it's not wrong to be an athlete and to be sexy, if you choose to be. We don't judge one to be better than the other and we don't believe in excluding one for the other."
Roxy stated "women are complex and multi-dimensional," attempting to explain the lack of surfing in the video.
The Daily Telegraph interviewed Catharine Lumby, a Macquarie University Professor educated the Australian Sports Commission on "sexploitation" of female athletes and the Roxy advertisement.
"There is nothing wrong with celebrating fit bodies," she said. "I'm all for it, but this goes way beyond. It is really just very voyeuristic. It looks more like a lingerie ad. It seems completely out of touch with modern Australia and little to do with the sport it is publicizing."
The Roxy Pro Barritz spans through July 14 and will include the world's 17 top-ranked surfers. The event in France is the sixth stop out of eight that are part of the Association of Surfing Professionals' (ASP) Women's World Championship Tour.
Although the ASP was not part of the production of the video, ASP spokesman Dave Prodan did not address the topic when he was questioned about it by GrindTV.
"The women of the ASP Top 17 are phenomenal individuals possessing talent, inspiration, and character," he said. "ASP's vision for the future of the sport is to celebrate their athleticism, personality, and stories. We look forward to bringing this to the world in 2014 and beyond."
Image is a screenshot from video by Roxy on YouTube