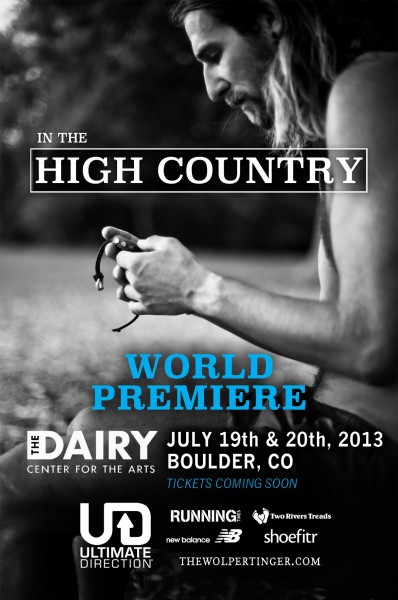 Ultimate Direction is proud to announce the world premiere of In the High Country on July 19-20 at Boulder, CO's Dairy Center for the Arts.  This Ultimate Direction, New Balance, and Running Times-sponsored independent film represents the culmination of a year-long project between mountain running athlete Anton Krupicka and filmmaker Joel Wolpert.
Exploring a lifestyle shaped by the mountains, In the High Country traces accomplished mountain runner Krupicka from his roots in Niobrara, Nebraska to his current home in the Rocky Mountains and all the miles in between.  Filmed throughout Colorado and beyond by Wolpert, this short film is less about the activity of running and more about a way of life.
"Anton has been working with Ultimate Direction for over a year now, helping us to develop the next generation of athlete hydration, so when he approached us about helping support this project, we jumped at the chance," said Buzz Burrell, Brand Manager for Ultimate Direction.  "Anton's passion for running and Joel's incredible talent as a filmmaker have combined to create a really unique and exciting film and we're excited to host the world premiere right here in Boulder."
The Dairy Center for the Arts is the first stop for In the High Country before heading out on an extensive tour of cities and film festivals.  Additional showings are scheduled for August and beyond, including stops in Salt Lake City, Bend, OR, Missoula, MT, New York City, Boston, and Philadelphia.   In the High Country is also invited to the 2013 360 Stopni Film Fest in Poland and the 2014 Trails in Motion film Fest in South Africa.
Tickets for the Boulder, CO screening at the Dairy Center for the Arts are on sale now and can be purchased online here: https://thedairycenterforthearts.secure.force.com/ticket#details_a0Si00000006wIzEAI
For more information on the film and updated tour stops, please visit thewolpertinger.com.
Photo courtesy of Ultimate Direction