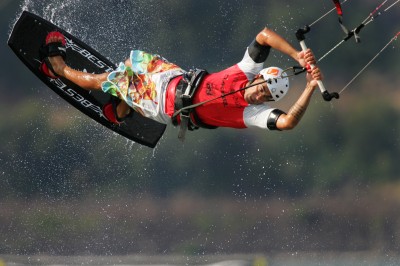 The Professional Kiteboard Riders Association is in the midst of its world tour, getting ready to host the IKA PKRA Kiteboarding Freestyle Junior World Championships in Girona, Spain. Running from July 2-7, this competition will focus on age groups of eight to 16 years old.
The sport of kiteboarding combines elements of wakeboarding, wind surfing, surfing, paragliding, and gymnastics, making this an extreme sport suited for only those with experience or adequate training in similar activities. While all of these skills are necessary, the sport is wholly reliant on the wind, and dead winds make it impossible to compete.
The first day of this competition will be comprised of registration and a clinic with the pros to give riders last-minute advice before entering. Following an introductory meeting on July 3, there will be the main event, which also includes the elimination rounds. This same schedule occurs daily, until winners are announced on the last day. There are three age groups for boys and two age groups for girls, and three prizes will be awarded to the top riders in each age group.
With housing available at Camping La Ballena Alegre Costa Brava, participants will be provided with all the necessities in close proximity to the competition's location in a bungalow, but also have the opportunity to camp nearby.
Four world events were held prior to this event and were located in Morocco, France, Mexico, and Italy. Future competitions that run through December will be in Germany, another stop in Spain, Istanbul, Egypt, China, New Caledonia, and Argentina, making this a true international organization that does not favor a single location.
The Marsala World Cup Freestyle in Italy wrapped up several days ago and the weather was described as perfect riding conditions.
"The flat water of the lagoon of Stagnone allowed all the riders to push the limits," an article on the website stated. "The fourth day of the Marsala Freestyle World cup saw some of the most technical tricks being landed in competition. The conditions were perfect for freestyle."
Although winds were so low at one point that part of the competition had to be canceled, there were plenty of activities in the area to keep people entertained such as aerobics, a skate ramp, DJ, and bar.
The next freestyle event will be in Sankt Peter-Ording, Germany on July 12, 2013.
Image from Jim Semlor on the Wikimedia Commons