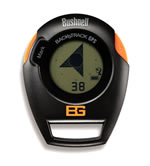 Bear Grylls has proven he can find his way out of a tough situation, but the rest of us could probably use some assistance. Bushnell and Bear Grylls Ventures have partnered to introduce two simple GPS devices for adventure-goers: Bear Grylls edition BackTrack and BackTrack D-TOUR.
Following a career in the British Special Forces and myriad survival and adventure experiences, Bear Grylls understands the importance of simple survival tools. Bushnell, in partnership with the survival expert, has developed a Bear Grylls collection that includes personal GPS, optics and portable power.
The BackTrack combines advanced GPS technology with a digital compass and simple user interface that allows users to mark up to three locations. Whether it's marking a trailhead or a campsite in the woods, the BackTrack provides simple distance (yards/miles or meters/kilometers) and direction to any of the saved waypoints at the push of a button. With a backlit display and 16-18 hours of operation on one set of batteries (two AAA batteries), the BackTrack is a simple, reliable navigation tool.
Also available is the BackTrack D-TOUR, an enhanced GPS device that makes it easier than ever to record your track and find your way back. With the ability to store up to five locations, provide simple distance and direction to each waypoint, and easily record up to 48 hours of trip data, the D-TOUR is a must-have for the outdoor adventurer. In addition to a self-calibrating digital compass, the device provides time, temperature, altitude and latitude/longitude readings, as well as a trail map that allows users to retrace routes.
Following each adventure, data captured by the D-TOUR can easily be uploaded to a PC or Mac. The free D-TOUR software application overlays the route on a topographic map while providing the length and time of the trip and elevation and temperature readings. At just four ounces, the compact device can be easily tucked away in a pack or pocket, and the backlit display makes it useful for every adventure.
The Bear Grylls edition GPS devices from Bushnell are available for suggested retail prices of $79.99 for the BackTrack and $119.99 for the BackTrack D-TOUR. For more information about the Bear Grylls series, visit the product section online, or learn more about Bushnell at www.bushnell.com.
Image courtesy Bushnell/Howard Communications