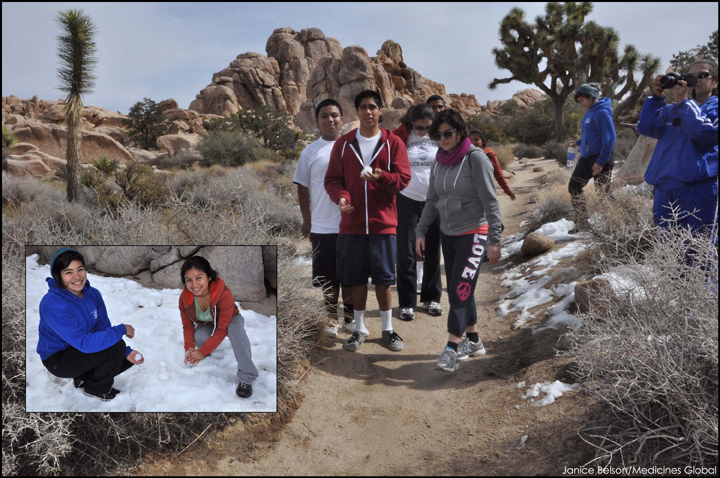 The North Face has awarded a $2,500 Explore Fund grant to Medicines Global Outdoor Youth Ambassador (MGOYA) program 'Get kids Moving'. The Explore Fund's mission is to inspire and enable the next generation of explorers by funding non-profit organizations that are working to connect children with nature. By encouraging an active healthy lifestyle and protection of our natural landscapes, a stronger connection of youth to the outdoors can be nurtured. MGOYA has provided more than 1,000 Los Angeles urban high school students with outdoor adventures.
Medicines Global was selected from more than 500 applications submitted in 2013, because the public schools in Los Angeles offer little or no wilderness educational experiences. Collaborating with the Los Angeles Police Department (LAPD) and the Los Angeles Unified School District (LAUSD), Medicines Global has developed an innovative template to give an ever-growing number of urban youth outdoor adventures. This unique collaboration gives MGOYA a strong sustainability factor.
Since The Explore Fund was initiated in 2010, The North Face has provided more than $1 Million in grants to non-profits all over the world working to connect youth to the outdoors with more than three quarters of that going to programs in the United States.
Our motivating belief is that an effective way of developing the next generation of outdoor enthusiasts and guardians of our natural environment is to offer outdoor adventures to as many students as possible. Collaborating with local law enforcement & public schools offers youth limitless opportunities in these economically challenging times for creative educational/wilderness field trips. Rock climbing, camping, surfing, seeing snow for the first time, breathing the desert air, it's all unforgettable for these city kids & the ripple effect is infinite. As part of a national movement to inspire youth to explore the outdoors MGOYA programs will continue to move forward with The North Face Explore Fund Grant's recognition for our efforts.

-Johanna Belson, Director, Medicines Global Outdoor Youth Ambassadors
MGOYA 'Get kids Moving' Climbing/Camping month will launch on October 1, 2013. Rock climbing is one of the most intense ways to play and interact directly with the earth. Building connections between urban youth and the land begins with an introduction. With this grant MGOYA will give 50 Outdoor Youth Ambassadors initial rock climbing lessons on a city gym rock wall. Later that month MGOYA will take 20 students to Climb Smart in Joshua Tree National Park for a 3-day camping and climbing experience. At Climb Smart the Outdoor Youth Ambassadors will learn the basics of rock climbing from world-class rock climbers. To learn more about Medicines Global and the Medicines Global Outdoor Youth Ambassador programs visit www.medicinesglobal.org. For more information about The North Face Explore Fund, please visit www.explorefund.org.
Image courtesy The North Face/MGOYA