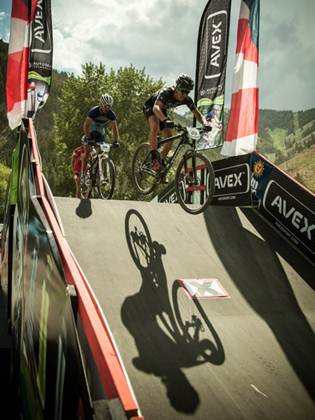 For the second year running AVEX, makers of superior performance water bottles and travel mugs, is a gold sponsor of the Ride Sun Valley Bike Festival. During the June 29 – July 7 event, AVEX will partner with Ninkasi Brewing as lead sponsors for an individual event within the festival: the Ketchum Criterium – the most drama you'll ever see on two wheels.
The Ride Sun Valley Bike Festival (RSVBF) is a nine-day celebration of the two-wheeled lifestyle. It plays host to some of the most intense events around, such as: the Scott and Shimano Two-Day Super Enduro Stage Race; kids' mountain bike and track races; no-drop rides with Rebecca Rusch and riding clinics with Juli Furtado; and the USA Cycling Marathon Mountain Bike National Championships. For the record, the Rusch and Furtado rides claim not to be intense, but it is Rebecca Rusch and Juli Furtado.
On the other end of the intensity spectrum, there's also a music festival, the Ride Sun Valley Lawn-Athon (where sun tanning is the most strenuous event), and a "regular" mountain bike race for the mortals among us. Of course, one of the marquee events is always the Ketchum "Fat Tire" Criterium, an event for which the only unifying factors seem to be that men wear wigs, everyone wears a costume and tires are wide enough to make the Tour de France execs shake their heads in sadness.
"We love the Ride Sun Valley Bike Festival," said AVEX's VP of Marketing and Product Development, Todd Starr. "Not only is it a great time in a gorgeous setting, but the event embodies the spirit of biking culture. From a novice out for their first race to ultra-athletes performing at the top of their game, it's the shared enthusiasm that unifies this community. This is the type of event AVEX likes to sponsor: those that celebrate the love of sport and those that honor having a good time while pushing your athletic limits. We're proud to be a part of it."
AVEX looks forward to joining sponsors such as Scott, Smith Optics, DaKine, Shimano and Ninkasi beer in recreating another epic weekend of parties and dirt-shredding.  The Ride Sun Valley Bike Festival takes place Jun. 29 – Jul. 7, 2013, in and around Sun Valley, Idaho. For more information or to register for an event, visit: www.ridesunvalley.com.
For more information on AVEX, please visit: www.avexsport.com.
Image courtesy Verde PR/AVEX