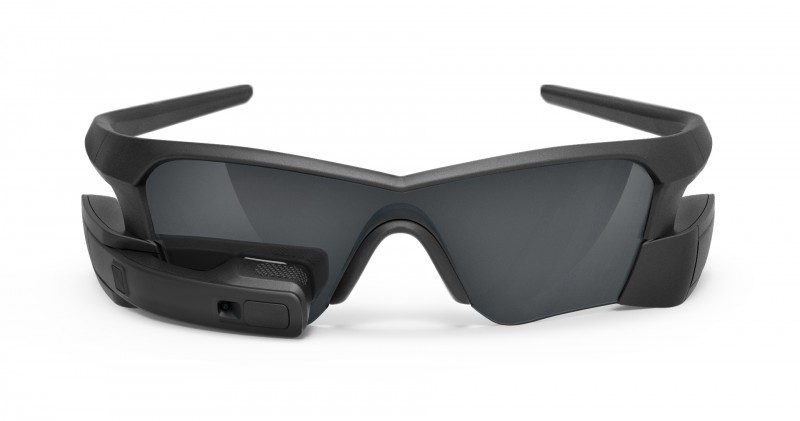 Pilot Edition Offer Expires July 21, the Final Day of the Tour De France
Recon Instruments, the award winning technology company behind the world's first consumer Heads-up Displays (HUD) for sports, has launched Recon Jet. A limited quantity of their high-performance HUDs, integrated on sports sunglasses, are available for pre-order today for a limited time price of $499 at jet.reconinstruments.com.
Recon Jet, Pilot Edition, will ship with applications designed for cyclists and triathletes. This limited edition model is for first movers and will ship several months prior to full production.  Through wireless connectivity to third party devices (via ANT+ and Bluetooth), the athlete will have access to critical information including heart rate, cadence and power output.  Its comprehensive suite of on-board sensors also delivers a full portfolio of precision performance stats and data such as speed, pace, distance, time, vertical ascent and more.
Recon Jet keeps the user connected to friends and family effortlessly by displaying caller ID and text messages hands-free and available at a glance.  Athletes can even upload and view information from their social networks direct fromRecon Jet during activity, seamlessly and hands free.
While Recon Jet is designed with athletic use cases in mind, it also has an open platform.  Recon will introduce theRecon Jet SDK well before the first Recon Jets begin to ship, allowing developers to create applications for any activity. Recon is already in development with major health and fitness companies to create native apps to run on the device, which will be available to upload to the HUD. Through these apps, users will be able to unlock the full potential of the platform and customize their device for any activity where information, relayed direct-to-eye, changes the game.
Dan Eisenhardt, CEO of Recon Instruments said: "We are proud to be launching Recon Jet for pre-sale. Since introducing our first HUD for snowsports in 2010, we have been working tirelessly to create a high-performance sports sunglass HUD.  Recon Jet is the culmination of that effort.
"We introduced Recon Jet to the developer community at the Google I/O tech conference last month.  To say the response exceeded our expectations would be a massive understatement.  Now, with this first edition of Recon Jet and our soon-to-be-released SDK, we look forward to developers unleashing their creativity to build amazing apps for Recon Jet."
Recon Instruments athlete and seventeen-time Tour de France rider, George Hincapie added: "Throughout my 19-year career, I was always fascinated by wearable technology and I think it is incredible how Recon Instruments has managed to develop a HUD for sunglasses while keeping the fit of the sunglasses balanced and comfortable. It is amazing how the display is only visible when you want it to be and is completely invisible when you don't.  It will make a tremendous difference for cyclists not to have to look down at their bike computer or smartphone for data, taking their focus away from their activity.  I can see these being a big hit in the peloton."
Recon Jet includes a 1 GHz dual core processor, dedicated graphics, Wi-Fi, ANT+, Bluetooth, GPS, HD camera, and a comprehensive suite of sensors making it a standalone computing solution, comparable in capability to a tablet or smartphone. The components of the HUD are distributed evenly across the eyewear adding just 14grams to each side of the sunglasses. The display is controlled by a precision optical touch-pad that supports multiple gesture controls and facilitates its use in all weather conditions, even with gloves on.
Images courtesy Recon Instruments