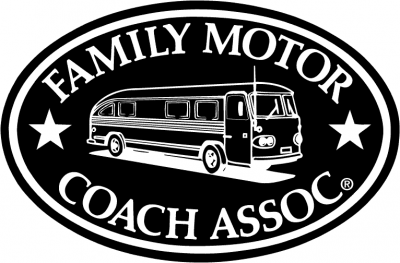 Family Motor Coach Association (FMCA), an international organization for families who own and enjoy the recreational use of motorhomes, announced that the group will host its 90th Family Reunion and Motorhome Showcase at the Deschutes County Fair & Expo Center in Redmond, Oregon. The dates for the event will be August 13-16, 2014.
The association hosts conventions twice a year in varying locations with the purpose of celebrating the motorhome lifestyle and is making its fifth visit to Redmond, having met in the city in 2001, 2004, 2007, and 2010 as well.
Set on 320 acres in the heart of Central Oregon, the Deschutes County Fair & Expo Center seems tailor-made for a Family Motor Coach Association motorhome owners gathering. A total of 100 acres of parking are available, and motorhome owners enjoy a spectacular view of seven snowcapped mountain peaks during their stay. Clean, attractive facilities accommodate the various convention activities, and beautifully landscaped grounds make for pleasant strolling between venues and events.
Plus, the warm, sunny days and cool nights afforded by Central Oregon's high desert climate make this an appealing spot to gather. Average summer temperatures range in the mid-80s for highs to the mid-40s for lows. And with an average annual rainfall of only 8-12 inches, Central Oregon averages 250 days of sunshine each year.
"The folks in Central Oregon always seem to welcome FMCA with open arms," said FMCA executive director Jerry Yeatts. "The Deschutes County Fair and Expo provides a great venue for the FMCA Family Reunion behind the backdrop of the beautiful Cascades. FMCA's Tour Connection, powered by Fantasy RV Tours, has put together some outstanding caravans that lead right up to this grand event in Redmond. We look forward to experiencing all the excitement and adventure of meeting in the great Northwest."
"We are eager to welcome back FMCA for their 90th Family Reunion and Motorhome Showcase next August," said Roxia Thornton Todoroff, director of sales at the Deschutes Fair & Expo and the 2013 Redmond Chamber of Commerce and CVB board president. "On behalf of Deschutes Fair and Expo and the Redmond Chamber of Commerce, Convention and Visitor's Bureau, we are ready to roll out our red carpet welcome to all attendees. We invite FMCA members to come early and stay longer to enjoy all of the fun activities, great food and drink, entertainment, recreation, and adventure found here in Redmond, Central Oregon, and the entire great state of Oregon."
Also in 2014, FMCA will return for an eighth time to Perry, Georgia, for a Family Reunion & Motorhome Showcase, March 17-20. The 1,100-plus-acre Georgia National Fairgrounds & Agricenter has become a popular place for RV rallies, with its spacious parking facilities; expansive meeting, exhibition, and entertainment venues; and convenient location just off Interstate 75.
Convention activities include a motorhome exhibition that brings together major motorhome manufacturers and dealers from throughout the United States and Canada, as well as manufacturers and distributors of a multitude of RV accessories and components, and suppliers of various services related to RVs.
In addition to the motorhome show, highlights include seminars on a variety of topics related to motorhomes and RV travel, tours of local sites and scenes, daytime and evening entertainment, and numerous social activities.
For more information, visit FMCA.com or call the FMCA national office at (800) 543-3622 or (513) 474-3622.
Logo courtesy Family Motor Coach Association