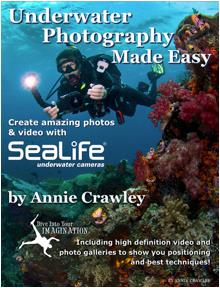 SeaLife Cameras has partnered with Annie Crawley to release her enhanced eBook Underwater Photography Made Easy as a free download, available now on iTunes. Designed for the iPad, this new, easy-to-follow book is loaded with essential information and instructional videos on the art of underwater photography. Starting with basic tips like setting the scene and positioning yourself, to more advanced shooting techniques and lighting, the eBook sets the stage for getting great results.
Unlike the world above the water line, underwater photography and video requires understanding special considerations in order to produce successful imagery. Created for divers of all levels, Underwater Photography Made Easy takes you through each of these aspects in easy-to-apply terms, so that even those brand new to diving and underwater photography can immediately get better results.
Known in dive circles as "Ocean Annie," the author is an award-winning professional underwater photographer and filmmaker who created this guide for SeaLife to give readers simple tips and tricks that will help them take amazing underwater photographs with SeaLife cameras.
Crawley tapped her more than 20 years of experience taking photos and videos underwater to create Underwater Photography Made Easy. This eBook leads you through subjects such as the review steps to make sure your SeaLife camera is ready before each dive, the basics of color and composition, tips on neutral buoyancy to help you take crisp and clear images without disturbing your surroundings, macro and wide-angle photography, and understanding foreground and background considerations, just to name a few. Through this eBook, you will learn how to capture everything from coral to sharks and clownfish to people—including yourself. The last sections address post-dive care and maintenance of your photo equipment as well as sharing your images.
"The most important thing you can do is shoot, edit, and share your images," said Crawley. "You will excel as a photographer with the foundation of this interactive enhanced eBook, but remember you can break every rule. We encourage you to experiment, take classes, edit your photos and video, and look at other artists. You do not have to be great to get started, but you do have to get started to be great!
"Be sure to start with the right equipment," Crawley added. "As illustrated in my book, I highly recommend SeaLife cameras. These cameras meet all of your imaging needs."
Full of inspiring and creative imaging ideas through its pop-out images and videos, Underwater Photography Made Easy is a wonderful reference that you can bring with you anywhere you can bring your iPad. For more information or to download it for free, visit itunes.apple.com/us/book/underwater-photography-made/id653351814?mt=11.
Image courtesy Hunter Outdoor Communications