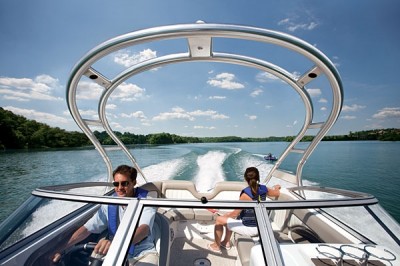 Wisconsin residents and visitors needing a temporary boating certificate to rent a boat or personal watercraft can now complete a new Wisconsin boat rental course.
"This new course covers all the information you'll need to know to receive your temporary boating certificate, and it can be taken on a smartphone, tablet or computer," said Roy Zellmer, boating law administrator for the Wisconsin Department of Natural Resources. "It will help ensure we're teaching boaters how to be responsible, safety-conscious operators."
The Wisconsin-approved online training covers Wisconsin legal requirements and some safe boating practices. Plus, this official boat rental course features realistic illustrations, interactive animations and live-action video. Students learn safe boating skills such as casting off and docking, understanding traffic laws on the water, Wisconsin-specific rules and regulations, dealing with emergencies and more.
Students who are 16 years or older can complete the Wisconsin boat rental course as quickly as they would like, starting and stopping at their convenience. Most students can complete the course and exam in one to two hours. Students pay a one-time fee only when they pass the test, and they can take the test as many times as they need to. Upon printing out the certificate, students can legally rent a boat or personal watercraft and operate it on Wisconsin waters. Temporary boating certificates are valid until the end of the calendar year in which the course was completed.
Wisconsin is one of the top boating and fishing destinations in the country, with more than 15,000 lakes, nearly 84,000 river miles, and access to Lake Michigan, Lake Superior, and the Mississippi River. Department of Natural Resource recreational safety specialists recommend all boat operators complete a boating safety course before heading out on the water. For more information or to start a course, visit http://www.boat-ed.com/wisconsinrental/.
Image courtesy Boat-ed