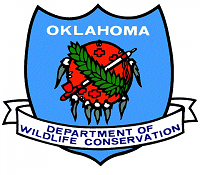 Lake Elmer in Kingfisher Co. is full and its boat ramp is usable, according to fisheries personnel with the Oklahoma Department of Wildlife Conservation.
The 55-acre lake has undergone a slate of recent renovations since being drained  in 2009 – including stockings of catchable-size bass, sunfish and catfish – but  up until the most recent rains, its water level had remained too low to be usable for boaters.
Lake Elmer is one of 15 Wildlife Department-owned and managed lakes across the state, ranging from as small as 30 acres to more than 260 acres. It was last renovated in the late 1970s, but a 2009 fish kill all but ruined the lake as a fishery. However, it created an opportunity to revamp the lake and make it into a "showplace" fishery for the Wildlife Department.
Renovations have included adding a courtesy dock near the boat ramp, removing over one million cubic yards of organic muck, rebuilding existing fishing jetties and  constructing new ones, all of which would have cost about $2.2 million if contracted out. Instead, the Wildlife Department relied heavily upon the skill of its own lake maintenance crew and other Department employees for renovations.
The Wildlife Department's law enforcement division helped secure donations and transportation for over 100,000 tons of concrete that was used for rip-rap in the renovations.
Two silt trap ponds were constructed above the lake to prevent the need for future renovations, and upstream landowners are putting conservation measures into place to slow future erosion issues. Additionally, new fish habitat was installed including 200 brush piles and 100 spider blocks built and delivered by Dover FFA students.
Spider blocks are manmade structures composed of polyethylene pipes that are concreted into cinderblocks, then placed at the bottom of lakes for fish cover. The Department also built and installed its own artificial fish structures, called "tarantula blocks," which resemble spider blocks but are much larger in scale.
After renovations were completed, the only thing that remained to do was to wait  until the lake filled to accessible levels for boaters and anglers. As of last week, the lake completely filled up, making the boat ramp accessible and the lake ready to be used.
"There is a fishable population in there now," said John Stahl, northwest regional fisheries supervisor for the Wildlife Department.
Stahl said the Department will continue monitoring the fishery. Plans are being made to electrofish the lake to check the overall status of the fishery, and that the Department has been receiving good reports from anglers who have been fishing near the newly installed structure.
Drought has hit western Oklahoma reservoirs hard in the last several years, leaving several lakes with low water levels and susceptible to significant fish kills due to dissolved oxygen. But recent rains have helped lakes like Elmer.
Another western Oklahoma lake benefitting from recent rains is Carl Etling in the Panhandle. Until recent rains, Etling had been so badly affected by drought that  for years the 150-plus acre lake dwindled to a mere 20-60 acre pool, fluctuating over the last years and providing some fishing opportunity. But like Lake Elmer,  recent rains helped fill the lake. In fact, Etling filled to 150 acres in one night due to its shallow depth and hard-surface lakebed.
According to Stahl, the Department is considering how it can improve fishing there as well. The Department has stocked some brooder sunfish, and plans are in place  to electrofish the lake to check its status as a fishery. The results of the survey will help determine the next step for the fishery.
To learn more about fishing in Oklahoma, log on to wildlifedepartment.com.
After complete renovations followed by drought that left it unusable for boaters  for several seasons, Lake Elmer in Kingfisher Co. is now open, and it's boat ramp is usable. Fishable populations are in the lake now and officials with the Wildlife Department are encouraging people to visit the showcase lake, complete with a slate of new improvements.
The empty bed of Lake Elmer in Kingfisher Co. while it underwent renovations. Pictured in the middle of the lakebed are manmade fish structures designed to concentrate  fish for anglers. With recent rains, the lake is now full and the boat ramp is usable.
In addition to Lake Elmer, Lake Etling in the panhandle recently filled to about 150 acres in one night after an important rainfall. Prior to refilling, Etling had dwindled between 20 to 60 acres over the course of several years of drought.
The Wildlife Department is now considering ways it can improve fishing there.
Logo courtesy Oklahoma Department of Wildlife Conservation