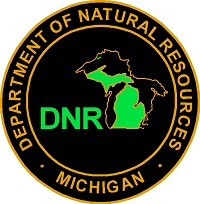 The Department of Natural Resources (DNR) announced today that on Monday, July 8, the Millecoquins Lake boating access site in Mackinac County will begin a temporary closure for dredging and maintenance at the facility.
Work will be completed by a DNR construction crew. The boat launch is expected to be open by July 18.
This project is funded through the Michigan State Waterways Fund, a restricted fund derived from boat registration fees and the Michigan marine fuel tax, which is used for the construction, operation and maintenance of recreational boating facilities, harbors and inland waterways.
For more information or updates about his project, contact Jim Dzelak, Newberry Recreation Field Office Unit supervisor, at 906-293-5131.
The Recreation Passport is an easy, affordable way for residents to enjoy and support outdoor recreation opportunities in Michigan. By checking "YES" for the $11 Recreation Passport ($5 for motorcycles) when renewing a license plate through the Secretary of State (by mail, kiosk, online at www.expresssos.com or at branch offices), Michigan motorists get access to state parks, recreation areas, state forest campgrounds, nonmotorized state trailhead parking and state boat launches. In addition, Recreation Passport holders can enjoy real savings at businesses and retailers that participate in the Passport Perks discount program. The Recreation Passport is valid until the next license plate renewal date. Nonresidents can purchase the Recreation Passport ($30.50 annual; $8.40 daily) at any state park or recreation area or through the Michigan e-Store at www.michigan.gov/estore.
Learn more about this creative way of sustaining Michigan's outdoor recreation and natural resources at www.michigan.gov/recreationpassport. For information on Passport Perks shopping discounts or how businesses and retailers can enroll in the program, visit www.michigan.gov/passportperks.
Logo courtesy Michigan Department of Natural Resources