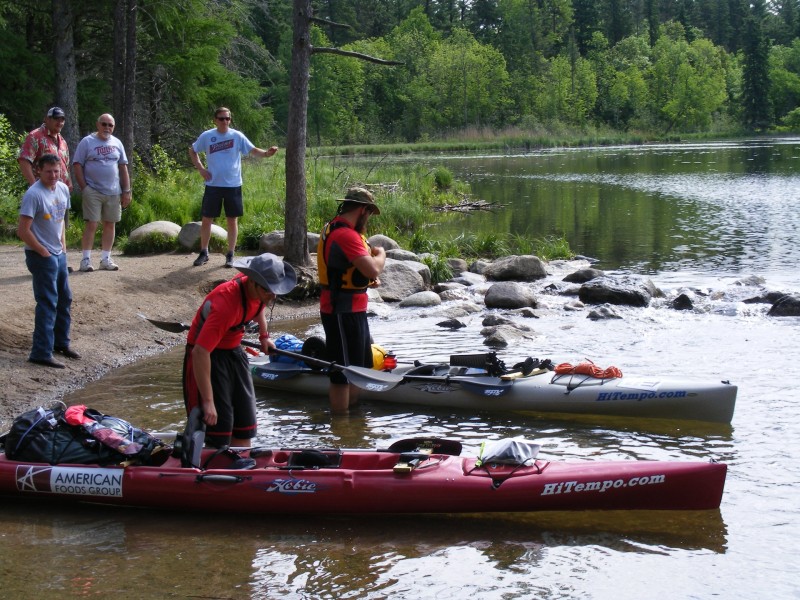 On Monday, Brock Wood embarked on a 2,400-mile kayaking trip on the Mississippi River. Acting as more than just a personal goal, this adventure supported a bigger cause – helping to raise funds to find a cure for Hodgkin's lymphoma, which Wood was diagnosed with in November 2012.
Wood, an 18-year-old who graduated from high school a year before, had missed more than 50 days of school because of a sore throat and fatigue that had plagued him during his senior year. It seemed likely he was suffering from mono, but tests came back negative. He discovered he had cancer after things took a turn for the worse while on an elk hunting trip in northwest Colorado with family in October. While at 9,000 feet in the Rocky Mountains, he started to have chest pains that resembled signs of a heart attack. After dealing with immense pain below his heart, Wood's symptoms began to subside and he started the two-hour hike back down the mountain with his father. He was taken to a doctor who suggested they perform a CT scan to gain a better understanding of exactly what was happening to him. Results were sent back to his hometown doctor, who delivered the bad news.
But only a few months later on March 29, 2013, Wood was told his cancer was in remission.
"We wanted to something big for lymphoma research, and my Dad thought 'Go big or go home,'" Wood told CBS. "We thought about rivers and lakes around Minnesota, but decided why not the whole United States so that this can go nationwide."
Wood and his close friend Jesse Hacker began their 60-day trip on Monday, which started at Itasca State Park in northern Minnesota and will end in New Orleans, Louisiana. Through the promotion of his story, Wood has gained sponsors and is accepting donations that will benefit the Lymphoma Research Foundation, for which he hopes to raise $100,000 through paddle4kins.org.
Some of his sponsors include Best Buy and GoPro, which he is incorporating into his trip through daily video updates to his blog.
"Hobie Kayaks have been big with the help," Wood told CBS. "Tuffy's Dog Food out of Perham and Culligan Water are sponsoring us. And Geneva Capital is our biggest donor."
Wood said they are packing 10-15 days worth of food for each leg of the trip, and will travel into the nearest town to stock up when it's needed.
"We're a big hunting family, and I've done a couple trips out to the boundary waters," Wood told CBS. "But 60 days is a long time for anyone. And we'll only be stopping for tornadoes. We're bringing an emergency radio so we can contact the Army Corps of Engineers if necessary–they've been really good helping us with maps and getting through the locks."
They plan to cover about 50-60 miles per day.
Donations can be made on the website to the Lymphoma Research Foundation. People can also support the cause by purchasing a T-shirt via PayPal or by completing an order form. Follow on Twitter: @paddle4kins
Images courtesy Kendra Hartsell