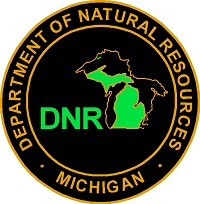 "It's a girl, and she's a killer!" said Campbell Ewald Creative Director Iain Lanivich after learning the gender of the Campbell Ewald Building's resident peregrine falcon chick. The chick turned 21 days old today, and was banded by employees of the Department of Natural Resources.
The female chick was given two bands, a band with a black "98" over a red "W" and a purple U.S. Fish and Wildlife Service band bearing an individual number unique to this chick. These bands will be used to track the young bird after it moves out of the nest later this year.
Tracking peregrine falcons is important as the birds recover from major population decline. In the 1960s the population took a nosedive due to the use of DDT. The shells of peregrine falcon eggs became extremely fragile, and very few youngsters hatched. By 1968, the entire peregrine falcon population east of the Mississippi and south of the Arctic was gone.
Michigan began its peregrine recovery efforts in 1986. In 1993, the peregrines in Michigan began reproducing successfully. There are currently 15 nest sites in southeast Michigan.
Detroit Zoo Veterinarian Wynonna Shellabarger and Assistant Curator of Birds Bonnie VanDam were on hand to check the bird for external parasites and to take blood samples to confirm the sex of the bird.
The art department at Campbell Ewald set up a website, cefalcons.com, where anyone can watch the Campbell Ewald falcon family as it grows. To date, the website has had had over 130,000 visits with an average of 3,700 visits per day. Today's banding was recorded and is currently available to watch on the site.
A contest is being held to name the chick. Suggestions for names will be accepted until Monday, June 10. The top names will be voted on between June 11 and June 14. The winner will have $1,000 dollars donated to the DNR Nongame Wildlife Fund in his or her name.
Logo courtesy Michigan Department of Natural Resources