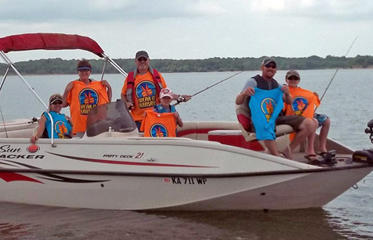 As summer heats up, the KDWPT "Wear It Kansas" boat will be hitting the water to educate boaters about life jacket safety
This summer, if you see a boat clad with the "Wear It Kansas" logo, you might want to motor over and say hello– it could get you some free stuff. In an effort to promote life jacket use on Kansas waters, Kansas Department of Wildlife, Parks, and Tourism (KDWPT) boating education coordinator, Erika Brooks, will be hitting the water to give away free t-shirts and tank tops to boaters wearing a life jacket. Brooks will also educate boaters about proper life jacket practices, as well as ways to improve their overall safety while on board.
"It's much easier to show people how life jackets are supposed to fit correctly and what 'readily accessible' means when you are working with their personal equipment," said Brooks. "Proper use of safety equipment can play a large part in reducing accidents and fatalities. In fact, out of the 43 boating-related fatalities we have seen in the past nine years, 86% of the parties involved did not have a life jacket on."
One of the biggest concerns that Brooks has encountered in past efforts is that boaters will forego wearing a life jacket because they harbor the dated notion that life jackets are still big and bulky.
"We have to educate boaters that it's not realistic to think they can put their life jacket on in time if they are involved in an accident," Brooks said. "Think about trying to put a seat belt on in the middle of a car crash. It's called an accident for a reason– if we could see it coming, we would avoid it."
Current "Wear It Kansas" boating dates include:
June 29, Big Hill Reservoir
July 5-6, Wilson Lake
July 20-21, El Dorado Reservoir
Aug. 3-4, Pomona Reservoir
Aug. 31-Sept. 1, Milford Reservoir
To get the most up-to-date information on upcoming appearances and contests, visit the Wear It Kansas Facebook page at www.facebook.com/WearItKansas – you just might be the next person who wins for "wearing it."
Image courtesy Kansas Department of Wildlife Parks and Tourism