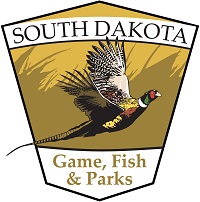 A new campground recently opened at Fisher Grove State Park near Redfield. The campground was moved to the east side of the James River after repeated flooding made the bridge unsafe for vehicles.
The new campground includes 22 electrical campsites, a new comfort station and a dump station. It is located near the existing playground, picnic area and golf course.
"This new campground will provide a wonderful camping experience for the Redfield area," said district park manager, Becky Graff. "With the constant flooding the last few years, local campers have had to travel out of the area to enjoy state park campsites. Now the Fisher Grove campground is back for the remainder of the summer."
The park is still completing some final touches, but work is expected to be done by July 4.
Camping reservations can be made within 90 days of arrival online at www.campsd.com or by calling 1.800.710.2267.
Logo courtesy South Dakota Game, Fish, and Parks