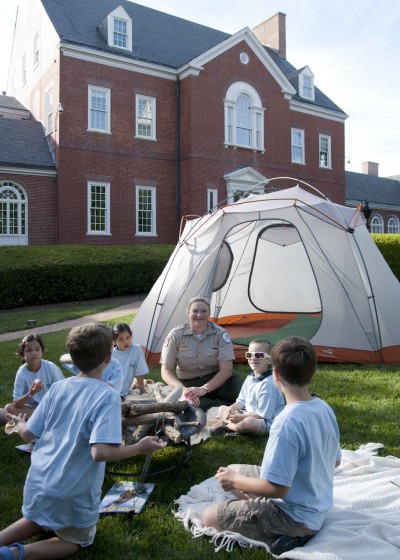 Marylanders are encouraged to kick off summer by pitching a tent in a State park, forest or even in their own backyards on Saturday, June 22, for the National Wildlife Federation's 9thannual Great American Backyard Campout.
"I encourage everyone to gather friends or family and celebrate the Great American Backyard Campout," said First Lady Katie O'Malley. "Camping brings a special joy and excitement that comes from spending time with those special to you, under the stars, telling stories, and taking in the sights and sounds of nature ─ simple activities that lead to everlasting memories."
The Maryland Park Service will host special events on June 22 at Cedarville, Elk Neck, Point Lookout and Sandy Point State Parks. Programs will vary by park, and include activities such as campfires and s'mores, live animals, crafts, guided canoeing and hiking, yoga, wade-ins and more. For a list of park events taking place all summer long click here.
Maryland's State parks, forests and other public lands offer more than 2,340 affordable campsites and 129 cabins. Camping reservations can be made online at reservations.dnr.state.md.us or by calling 1-888-432-2267.
"June is Great Outdoors Month in Maryland and the perfect time for families to get outside, away from modern day conveniences and distractions, and enjoy Maryland's beauty and excellent outdoor recreation," said DNR Secretary Joe Gill. "Activities such as camping double as an environmental education opportunity, allowing children to connect with and gain an appreciation for their natural world."
To ensure all Maryland young people have the opportunity to connect with nature and grow to become informed and responsible stewards, Governor Martin O'Malley established the Maryland Partnership for Children in Nature. Under this initiative, which is now used as a national model, an ambitious set of actions focus on improving connections with nature during the school day as well as outside of school and in communities. Camp under the stars is one of 10 outdoor activities included in the Maryland Children's Outdoor Bill of Rights.
The National Wildlife Federation's annual Great American Backyard Campout invites families to participate by registering at BackyardCampout.org. The site provides camping activity ideas including campfire recipes, nocturnal wildlife guides, campfire songs and games, nature activities and more.
Image courtesy Maryland Department of Natural Resources