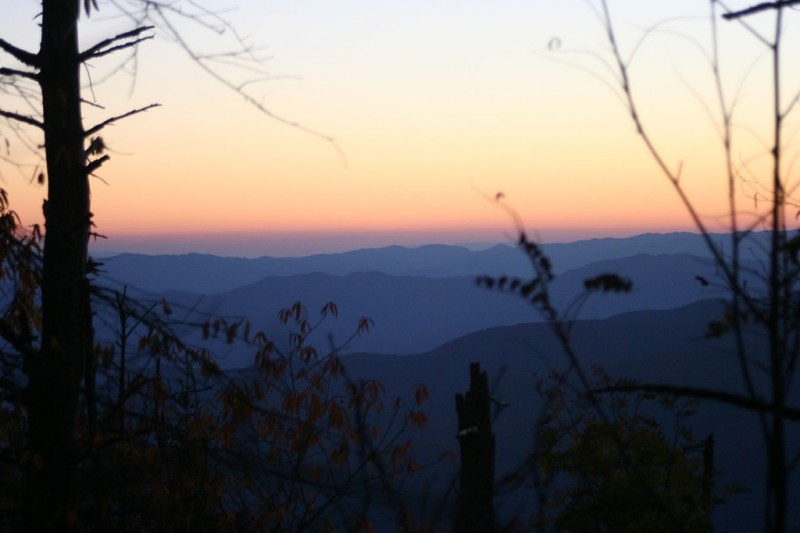 Trevor Thomas has almost completed hiking North Carolina's Mountains-to-Sea Trail (MST)–something many before him have accomplished. But Thomas is doing it without his sight.
"I became blind over a few months' time in 2005, and after a period of mourning, began to acquire the skills I would need to function as a blind person in society, including learning Braille, using a cane for mobility, and the rudimentary tasks sighted people take for granted: shopping, cooking, laundry, and home maintenance," Thomas said on his website. "In a further attempt to regain some of my former independence, I began planning a seemingly impossible thru-hike of the 2,175-mile Appalachian Trail (AT). As you can expect, my family thought I'd lost my mind along with my eyesight."
Wednesday marked 74 days on the MST trail, and Thomas, nicknamed Zero/Zero, has been blogging about his trip along the way, which began in early April. The MST celebrated the fifth anniversary of his initial hike on the Appalachian Trail that he endeavored upon alone. On his current trip, Thomas is accompanied by guide dog Tennille, who will assist him on the 90-day trek.
"Tennille will fill in any information gaps because she has been trained to find the signs," Thomas said in a news release. "One concern is weather. I've already hiked in some of the worst conditions that U.S. trails can throw at me. But I'm not sure how Tennille will do in harsh weather, day in and day out. Another concern is that we may run into unfriendly dogs on rural roads, and that could put my safety, as well as Tennille's, at risk."
After he hiked the AT, he committed to attempting the Pacific Crest Trail (PCT), which runs 2,663 miles.
"I founded Team Farsight to challenge societal misconceptions about blind people and to show that it is not the insurmountable disability that most believe it is," Thomas said on his website. "I recruited a committed team, friends from my AT days, to help me attempt the impossible trek: hiking partners who believed in was attempting to do and who would help me only when absolutely needed. They knew the last thing I wanted to do was to follow someone from Mexico to Canada.
"We completed the end-to-end thru-hike (PCT) in 2010 in five-and-a-half month's time. I honed skills learned on the AT. During that trek, I stopped counting falls when I got to 3,000, and had quite a few injuries, including some cracked ribs, lacerations, and stress fractures in my foot. On the PCT, I only fell 78 times and sustained no significant injuries."
The MST is the longest marked footpath in North Carolina and passes through 37 counties. Spanning over three national parks, two national wildlife reserves, and three national forests. According to the trail's website, it took more than 18,500 hours to finish the construction of the path, which was completed by 851 volunteers. Officially added to the state park system in 2000, the MST's highest elevation is 6,684 feet on Mount Mitchell, with the lowest at Cape Hatteras National Seashore. The name of the trail references the starting and ending points marked by the Appalachian Trail and the Atlantic Ocean.
Thomas is sponsored by THORLO, Guide Dogs for the Blind, Ahnu, Big Agnes, ExOfficio, and Marmot.
"We are proud to help support Trevor on his landmark journey," said Jim Throneburg, THORLO founder and CEO in the release. "He is an inspiration to all of us, and we look forward to following his progress."
Thomas' trip supports Guide Dogs for the Blind. To donate, visit www.blindhikertrevorthomas.com.
Image from Miriam Kraatz on the Wikimedia Commons