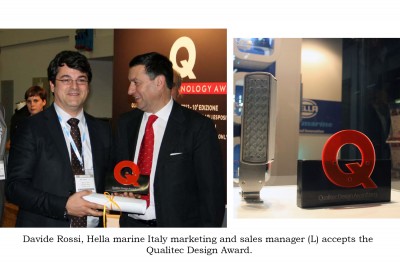 Global marine lighting specialist Hella marine recently took top honors at the SeaTec exhibition, held annually in Carrara, Italy. Awarded the prestigious Qualitec Design Award for 2013, Hella's Sea Hawk XL floodlights won recognition for their design excellence as well as their enhancement of the boat owner's onboard experience.
With powerful LED lighting capability that eclipses many comparable halogen products, the energy-saving Sea Hawk XL lamp blends high performance with pleasing aesthetics. Its state-of-the-art housing surrounds a strong, durable Grilamid lens and is fully sealed to resist harsh marine conditions. Hella's advanced Multivolt electronics ensure reliable performance and long life.
Available as both a spread light and a spot light, the Sea Hawk XL's sophisticated optics produce glare-free illumination. The judging panel remarked on the lamp's "essential, compact shape" and its utilization of "the very latest in technology."
"We are delighted to receive recognition for our innovation," said Davide Rossi, marketing and sales manager for Hella marine Italy. "High quality illumination, leading technical features and the proven durability of components, design and construction are our key quality philosophies." Video of Hella marine's advanced design, manufacturing and testing methods can be found at www.hellamarine.com or on YouTube at www.youtube.com/watch?v=XJPVxWn7x7Y&feature=player_embedded.
Image courtesy Martin Flory Group