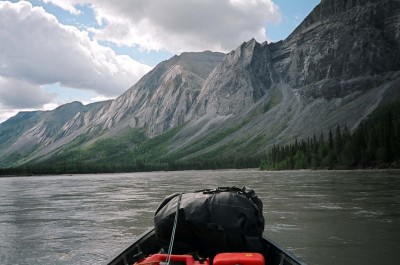 Northern Canada can be a beautiful and remote place, almost untouched by the hand of man. It can also be vast, unpredictable, and extremely cold even in the height of summer. Six brave young men are willing to take on a record canoe expedition to the top of the world from Black Lake in Saskatchewan, a 900-mile journey that will end at the Queen Maude Gulf in the Arctic Ocean. Their planned route will take the men through three provinces, frozen waters, and even several spots where the team expect to pass by sled dogs.
Along the way, the team will be documenting the seldom seen wilds of northern Canada and collecting water samples. In part, the expedition is to benefit the University of Alaska, Fairbanks and National Geographic. The young men attempting the "Tri-Province Arctic Canoe Expedition" include Ben Woods, Henry Cordeal, Jess Hernandez, Chris Martella, Andrew Hubb, and Kyle Terry. They are a diverse collection of explorers, professional guides, research students, and journalists. All their skills will be needed on the 70-day journey, and they will have to rely on each other as they never have before. Help can be far away and on the rivers of northern Canada, a split second decision could mean the difference between life and death.
So what will the team be bringing with them up north? In addition to three canoes, paddles, life jackets, and fishing rods, the expedition will also include wide gamut of video equipment, medical supplies, sample gathering gear, a Remington 12 gauge shotgun, bear spray, and a deck of cards. With 700 pounds of food and gear, the expedition officially began on June 10. So far no updates have been sent into the team's Facebook page, but with several satellite phones and a host of communication equipment, there is sure to be some news soon.
Image from subarcticmike on the flickr Creative Commons