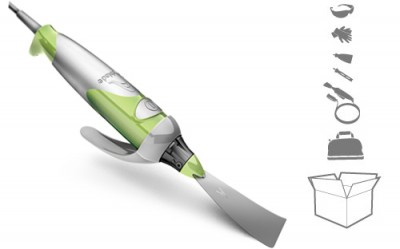 Boat owners who care about protection and safety during their new boat's transport and delivery also care about its maintenance. Peters & May and Waveblade have joined forces to help clients keep the hulls of their craft in factory-fresh condition. Worldwide Global Boat Transport expert Peters & May will make a Waveblade WB1000 hull and boat cleaning power tool available to clients upon delivery of a new vessel.
A new hull won't maintain its pristine finish for long without regular barnacle and fouling removal. Waveblade makes this fast and easy, using resonant wave technology to gently but thoroughly remove marine growth with little effort. Running off 12V DC power, the hand-held cleaning tool operates up to 15 feet underwater, making it ideal for even deep draft hulls. Beyond maintaining a boat's good looks, regular hull cleaning with the Waveblade helps promote fuel efficiency by reducing drag.
Peters & May safely moves on average more than 4,000 boats annually for private owners and manufacturers by sea, air, road or rail, on budget and on time. Additionally, staff specializing in international trade services and VAT/Customs assist with documentation and certification requirements. Peters & May's service reduces a vessel's sea miles and general wear and tear, giving owners more time to relax once they arrive on board.
"In delivering the best possible experience for our clients, service doesn't end when the yacht is delivered. Working with Waveblade enables us to show customers that we likewise care about the long-term maintenance of their vessels," said David Holley, Peters & May's Chief Executive. Information about Peters & May is available at www.petersandmay.com.
"We are honoured to work with such a prestigious global company," said Steve Smith, Waveblade Ltd. CEO. "Hull cleaning is important in maintaining a yacht's performance and appearance, and now Peters & May has a means to simplify that process for its clients."
Image courtesy Peters & May