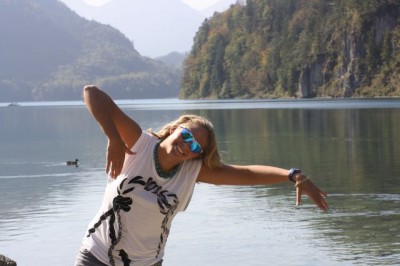 Australian endurance swimmer Chloe McCardel, 28, began her attempt to swim from Cuba to Florida earlier this week but withdrew after only 11 hours due to numerous jellyfish stings.
McCardel initially believed that the 100-mile journey–which did not involve a wet suit or a shark tank–would take 60 hours. The stretch of water between Havana and the Florida Keys are notoriously perilous, and not only because of sharks. In 2012, American swimmer Diana Nyad's fourth bid to cross the same distance was also ended by jellyfish stings, which can cause intense pain and in some cases a severe allergic reaction which can lead to death.
McCardel had trained for nine months prior to the endeavor and before setting out, had expressed her confidence in completing the trip. She had previously swam unaided across the English Channel.
"I really have to draw on that internal motivation but that's okay, it's why I bought into the idea of the swim because it's so much further than the English Channel, being roughly five times its length," McCardel said before the swim.
According to ABC News, a team of 32 doctors, weather experts, and support staff traveled alongside McCardel in a boat. The intense wear and tear produced on the body required constant monitoring and McCardel was fed from a bottle regularly. The liquid meals she received this way were the only food she expected to receive until touching Florida's shore.
"I will not wear a wet suit. I will not hold onto anything. I will not get on the boat at anytime," she promised.
As McCardel entered deeper waters she encountered one of the most worrying aspects of the journey: jellyfish. The animals stung the swimmer around the arms, legs, face, and back, making it impossible for her to finish the journey. McCardel's Facebook announced that she was taken back onto the boat and ferried to Florida, where she is receiving treatment. The injuries to her mouth and throat reportedly made it hard for McCardel to breathe.
If she had completed the journey, McCardel would have been the first woman to swim from Cuba to Florida without the use of a shark tank and reportedly the longest continuous solo swim. Another Australian, Susie Maroney, made the same trip at the age of 22 with the aid of a tank, which greatly reduces the chances of up-close animal encounters. According to a New York Times report, the swim had taken 24-1/2 hours and left the athlete physically as well as mentally exhausted. Maroney fainted shortly after reaching Florida's shores and was covered with jellyfish wounds, as well as being badly sunburned.
McCardel made the swim for Can Assist, a cancer charity in New South Wales.
Image courtesy Chloe McCardel