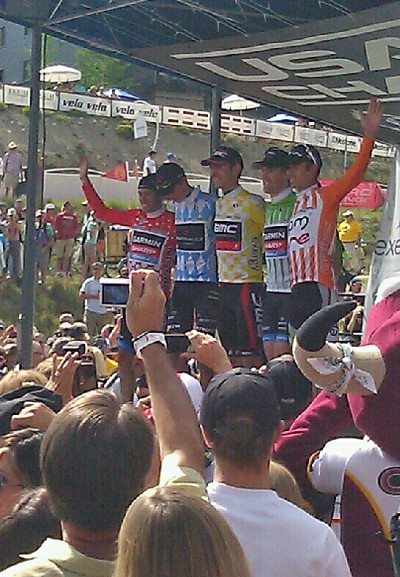 Bicycle Adventures http://bicycleadventures.com/, a leading active travel company specializing in two-wheel tours in North America, Hawaii and New Zealand, announces a special tour of the Colorado Rockies that intersects with the USA Pro Cycling Challenge, offering tour guests rare race access and viewing.
"We used to put all the emphasis on just following the bike race," explains Todd Starnes, owner/president of Bicycle Adventures. "While we still capture much of the excitement of watching highly trained athletes take on high altitude passes and sprint finishes, we don't forget why we are here – to ride a selection of the most breathtaking routes in the Colorado Rockies."
This summer, the third year of the USA Pro Challenge, Starnes' guests will witness race starts and finishes intermixed with scenic rides, and on four nights guests will stay at the same hotels where many of the pro riders congregate.
"The largest spectator event in the history of Colorado continues to set records in professional cycling by taking the world's best riders to new heights this year," notes Starnes. He's quick to point out that the race that begins Aug. 19 in Aspen/Snowmass and concludes Aug. 25 in Denver draws the same pro teams and riders who compete in the Tour de France.
Advanced-level amateur riders on Bicycle Adventure's 8-day tour departing Aug. 18 will average 60 miles a day beginning and ending in Denver. The per person double rate of $3,445 includes up-close and personal access to race events, deluxe accommodations, all meals except one lunch and one dinner, the services of seasoned guides, van support and more. See: http://bicycleadventures.com/destinations/colorado-bike-tours/USA-Pro-Cycling-Challenge-Bike-Tour.
Day one the tour traverses Independence Pass at 12,095 feet, the highest paved crossing of the Continental Divide, to Aspen where the Challenge begins. Day 2 guests can partake of the pros' 22-mile triple route circuit. Day 3 is a 96-mile ride from Aspen to Breckenridge, including the optional 15 percent grade of Moonstone. Days 4 and 5 bring racers and cycling guests alike to Steamboat Springs and Beaver Creek, with a new climb up Bachelors Gulch featuring quad-searing grades up to 15 percent. Starting from Dosset, tour guests ride the reverse course to meet the race, then turn and follow the teams after they blast back to Beaver Creek.
Individual Time Trials in Vail are held on Day 6. Tour participants are in for another treat.
Says Starnes, "We're betting participants would rather ride 50 miles of the stunning Peak to Peak National Historic Byway than stand around and watch time trials. To the west are the Rockies; to the east views stretch far into the plains. We pedal into Estes Park, gateway to Rocky Mountain National Park and the setting for Steven King's movie, 'The Shining'." Dinner is at the Stanley Hotel where the off-season caretaker in the movie (Jack Nicholson) spent the winter descending into madness."
Day 7 is what Starnes calls a speed-fest, with time out to watch the teams come through before racing to Fort Collins to see the finish. On Day 8 guests ride back to Estes on the Peak to Peak Scenic Byway before taking on a portion of last year's Stage 6 Golden-to-Boulder route. The circuit race and finale can be viewed in Denver from any of several amazing viewpoints.
For more information, availability and reservations contact Bicycle Adventures by phone: 800.443.6060, email: [email protected] or visit online at: http://bicycleadventures.com/.
Image courtesy Widness & Wiggins PR