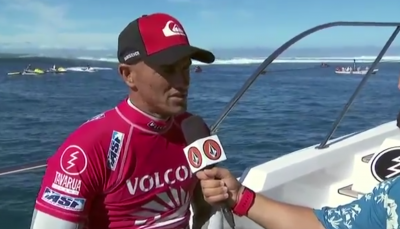 Few surfers could hope to match the track record of Kelly Slater, who at the age of 41 holds 11 world titles and now a new world record. While competing at the Volcom Fiji Pro Slater managed to clock two perfect scores inside the same 30-minute heat, an accomplishment that within the ranks of the Association of Surfing Professionals has only been seen a handful of times. On Wednesday, Slater became the first person ever to pull it off twice.
What a day," Slater told ASP. "That was insane. When we stared out in the Final, Mick had position and I was a little deep, but the next one was unbelievable. I want to dedicate this to my brother and his wife and their new kid Van. He told me that if I missed the birth of his son, that I'd better win, so this is for you. I want to say hi to everyone at home. What can I say, what a day."
If you have some trouble comprehending how rare two simultaneous perfect scores are, GrindTV reports that only four surfers in ASP history achieved the feat since records began in 1976. That would make it rarer than a perfect game in baseball. Slater cinched the day by going on to win the Volcom Fiji Pro Final with a overall score of 19.80.
You can watch video of the event below:
Image screenshot of video by videoswatch2013 on YouTube