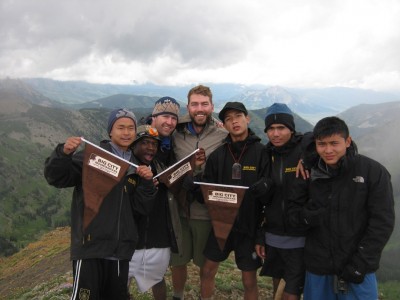 A group of dedicated climbers raised over $280,000 for Big City Mountaineers (BCM), through a series of Mt. Whitney Summit for Someone (SFS) fundraising climbs in California this spring. The funding enables BCM to help instill critical life skills in thousands of under-resourced urban youth across the country through wilderness mentoring expeditions.
The climb was spearheaded by Backpacker magazine editor-in-chief and longtime BCM board member, Jonathan Dorn, who invited readers in the August issue to submit a written entry explaining why they would like to join him on a climb of Mt. Whitney. After receiving 75 essays (some including photos and video), 60 readers committed to raising $4,000 each for BCM youth to join the climb.
SFS is a unique program that gives participants a chance to travel, climb the world's premier mountains under the instruction of some of the world's best guide services, and positively impact the lives of under-resourced urban youth simultaneously. BCM programs have a proven track record of improving integrity, self-esteem, decision-making abilities, and communication skills that keep kids healthy, active, in school, and motivated to strive for success.
"We really accomplished something special," says Dorn. "The generosity of our climbers, their friends, families, and colleagues will make a real and lasting difference in the lives of the teens that BCM serves. I know this because I've seen proof in the research, but I've also witnessed the power of BCM's curriculum first-hand on mentoring trips."
Dorn was joined by The North Face athletes Pete Athans and Cedar Wright. Wright has already raised over $10,000 for BCM through past SFS climbs. Additional partners include DeLorme, who sponsored the climb in addition to providing inReach satellite communicators with GPS, and Lowa, who provided mountaineering boots.
To donate, please visit summitforsomeone.org/donate.
In addition to these Whitney climbs, Shannon Davis, editor of Climbing Magazine, has similarly challenged his readers to climb with him for a week to benefit BCM in Wyoming's Wind River Range. Other SFS climb opportunities include Mt. Rainier, The Grand Teton, and Mt. Kilimanjaro along with 15 other world-class mountains. To find the climb that is right for you including the Climbing Magazine climb, and to help even more youth experience BCM's life-changing programs, please visit summitforsomeone.org/climbs.
Image courtesy Backbone Media