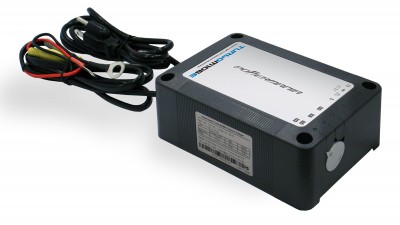 Good things come in small packages, especially since they take up less space onboard. Powermania's compact, 6 amp Turbo M106E charger comes with many safety and innovative features.
Epoxy-potted for true long-term waterproofing, the Turbo M106E is a single-bank, true 3-stage automatic charger that has a built-in battery type selector. This enables users to charge 12V lead-acid, AGM or GEL batteries to their fullest capacities. It can charge systems up to 72 Ah capacity.
Safety features of the Turbo M106E include protection against ignition, overheating, over-current, over-voltage, reverse polarity and short circuit. An LED indicator shows power, charge status and charging mode, as well as warning of over-voltage or overheating.
Small enough to carry practically anywhere, the M106E measures 6.5″ x 4.5″ x 2.5″ and weighs only 4.7 lbs. It comes with a 5′ output cable length and a 5′ AC power cord.
Protected by a two-year warranty, Powermania's Turbo M106E retails for $79.
Image courtesy Martin Flory Group