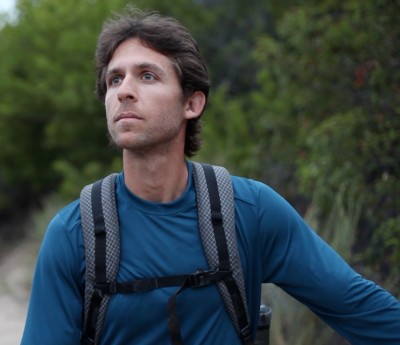 Josh Garrett is carrying more than a backpack as he hits the grueling Pacific Crest Trail, a 2,655-mile trek from Mexico to Canada – he's carrying a message about the plight of animals in American factory farms.
Garrett, 30, a Santa Monica College track coach and exercise physiology instructor, sets off next week on the hike, in which he intends to raise awareness and funds for Mercy For Animals – a national charity working to prevent cruelty to farmed animals and promote compassionate food choices and policies.
In 2009, Garrett hiked the trail and called that trek the greatest experience of his life. Now, a vegan for 18 months who feels stronger than ever, he wants to promote the benefits of a plant-based diet.
Whole Foods CEO John Mackey thinks Garrett can do more than that – Mackey thinks Garrett can break the current 64-day Pacific Crest Trail speed record and is sponsoring Garrett by providing hiking gear, support, food and water. Mackey, who shares a passion for plant-based eating, hiked with Garrett on a portion of the Continental Divide Trail last summer.
"Josh is not only a very nice person, but is also the strongest hiker I have ever had the privilege to hike with," Mackey said – with good reason.
Garrett hikes fast. In 2009 he thru-hiked the Pacific Crest Trail in 88 days, a comfortable pace for him, and about half the time taken by most hikers. To break the record he'll have to average 42 miles per day across terrain such as the blazing Mojave Desert and the steep Sierra Nevada Mountain Range, while carrying a 30-pound pack.
Garrett is confident that fueled by plants and compassion, he can trounce his previous speed, barring fires, snowstorms, or snake bites.
"Just two years ago I was a big meat eater, wild about dogs but not letting myself think much about other animals," he said. "Over Thanksgiving 2011, I met two turkeys rescued by a friend. They were friendly and fun, and clearly conscious. Then I saw a Mercy For Animals undercover video where a slaughterhouse worker was using live turkeys, suspended upside down on a conveyor belt, as punching bags. I was sickened. And my own consciousness started to change."
After seeing the movie Forks Over Knives, he realized a plant-based diet would also benefit his athletic performance, overall health, energy, and endurance. Today Garrett feels great, and wants to help Mercy For Animals conduct undercover investigations like the one that had such an impact on him.
"The more I learn about animals used in the food industry, the more I want to help," said Garrett. "I walk because they can't."
"When it comes to helping animals, Josh doesn't just talk the talk, he literally walks the walk," said Mercy For Animals executive director Nathan Runkle. "We hope that Josh's selfless journey inspires others to take steps in their own lives to help prevent the horrible suffering of animals on factory farms by adopting a healthy and humane vegan diet."
Garrett will use Twitter (@VeganHiker) to update followers on his progress, which will take him within an hour of cities such as Palm Springs, San Bernardino, Los Angeles, Palmdale, Lancaster, Tahoe, Reno, Redding, Ashland, Medford, Bend, Portland and Seattle. For more information, including a map of the trail, or to make a pledge, visit MercyForAnimals.org/VeganHiker.
Image courtesy Evolotus Public Relations