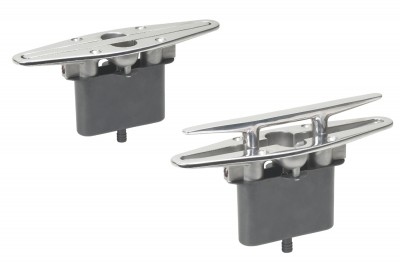 Cleats offer a highly convenient method for securing a yacht, but can get in the way when not in use. Accon Marine's flush-mounted 12″ and 15″ Pull-Up Cleats, made for boats over 40′, conveniently recess into their bases, helping maintain any craft's sleek good looks.
Gleaming 316 stainless steel construction makes the cleats as attractive as they are durable and functional. When ready to tie up, the user simply pulls the cleat above deck. When no longer needed, the cleat pushes down to stow neatly inside its base. An included waterproofing cup keeps any unwanted runoff safely below deck. These cleats come with a backing plate, which also serves as a cut-out template.
With a 12.6″ length overall, the 12″ cleat measures 3.7″ at its widest point and extends 6″ deep. Accon's 15″ cleat, the largest flush-mounted cleat available, measures 17″ overall in length and 5.3″ at its widest point, extending down 7.1″.
Both models are offered in through-bolted and stud-mounted versions. Through-bolted with visible fasteners, a single cleat attaches with four screws. With stud mounting, the cleat attachment points remain hidden from view for a seamless appearance.
The 12″ Pull-Up Cleat retails for $293.26. Prices for the 15″ Pull-Up Cleat start at $716.99.
Image courtesy Martin Flory Group