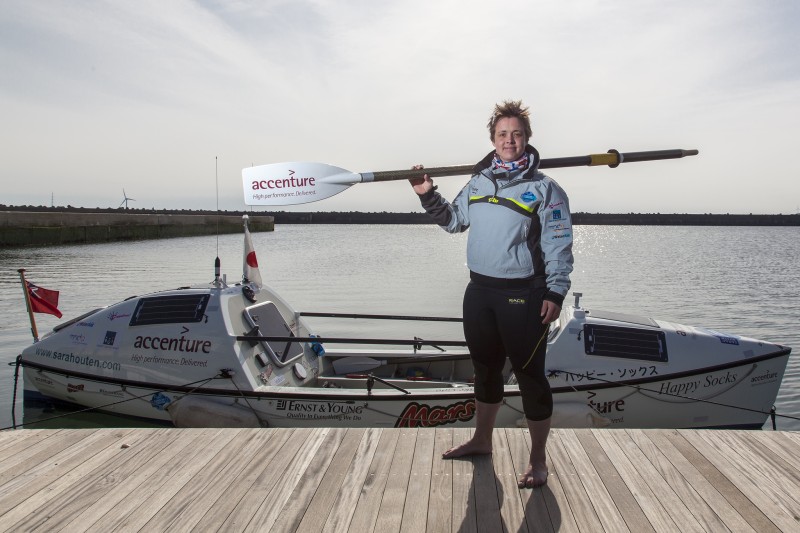 As of her last phonecast, 26-year-old Sarah Outen is somewhere in the North Pacific battling to keep her small ship above the waves. Currently she is only a quarter into her journey to reach Canada from Japan by a customized rowboat, a quest that will take her across 4,500 miles of open ocean. For this monumental feat she is completely alone.
It is a task that excites only a few of the most adventurous, and Outen does not plan on calling it quits after she arrives back on solid ground. The solo row across the Pacific is only one leg of a 20,000-mile journey called London2London that will begin and end on London's tower bridge. Starting on April 1, 2011, Outen had already biked, kayaked, and otherwise traversed across the over 10,000 miles that lay between Britain and Russia's Far East. Occasionally she was joined by other athletes and admirers that helped keep the journey from being lonesome. According to ABC News, the intrepid explorer even turned down three marriage proposals. For the most part though, Outen did not mind the solitary path.
"I love the challenge, the battles, the intimacy with nature, and the perspective gained from travelling so close to the water, the landscape, the wildlife," she said on her website." I love the purity of knowing that when you are alone, the immediate responsibility lies on your shoulders and yours alone. I do have a team at home and at certain times some in-location support, but mostly it is just me. It's a wonderful mix of excitement, fear, and unknowns."
The journey will take her across three continents, 14 countries, and two oceans. During this time, Outen garnered the attention of renowned explorer Sir Ranulph Fiennes, who most recently attempted another Antarctic expedition before falling victim to frostbite and bowing out of the journey.
"Sarah will face dangers on a daily basis, which only the hardiest could tolerate," Fiennes said. "But I'm sure she will succeed and confirm that she is an adventurer and expeditioner second to none."
Despite obstacles and inclement weather, Outen managed to reach Japan last year. A specially-built 21-foot solar-powered boat awaited her, stocked high with food and other gear that she will need for the long months crossing the Pacific Ocean.
"It could easily be frightening. There could be waves, I could capsize, I could run into ships, there's all sorts of dangers," she told ABC News. "The energy, the drama, and the close encounters with wildlife will definitely trump all of that for me."
Unfortunately, disaster did strike when Tropical Storm Mawar battered her boat and forced Outen to call for help from the Japan Coast Guard. For Outen, the setback was only temporary. She spent the next nine months using the experience learned from her first attempt in building another boat, Happy Socks. With a better boat and more prepared than ever, Outen set out across the Pacific once more on April 27.
"It's been a good day today, really good," Outen said on her latest phonecast 39 days into the journey. "For a lot of different reasons, first of all, we're going in the right direction."
In her phonecasts Outen recounts the occasional encounter with animals, rough weather and even capsizing recently. The rower is now over 1,000 miles from Japan in a trip that is expected to take six months. When she reaches Canada Outen will be cycling from Vancouver to Nova Scotia and then row the 3,000 miles back to London. Other rowers have completed journeys across the Pacific Ocean before, but Outen's global expedition will be truly one-of-a-kind when finished.
Image courtesy Sarah Outen