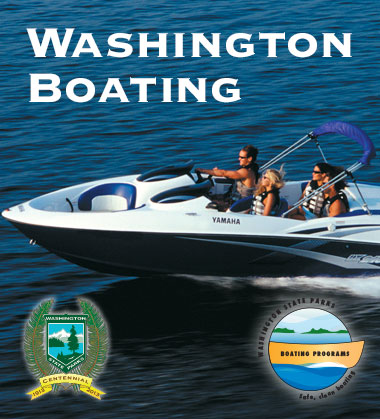 Adventures in Boating Washington, the official Washington boating student manual developed for the Washington State Parks and Recreation Commission, is now available as an e-book. This manual, which is published by Kalkomey, parent company of Boat Ed and www.boat-ed.com, provides a convenient way for students to study the safe boating information needed to pass the state's certification exam.
"For students who don't have reliable access to the Internet or can't attend a classroom course, studying the Adventures in Boating Washington e-book is a great way to learn Washington boating laws and safe boating strategies," said Wade Alonzo, Washington's boating law administrator. "After students review the student manual e-book and complete the chapter quizzes, they have to take and pass the certification exam to get their boater education card."
The process for completing the course via e-book is easy. After studying the Adventures in Boating Washington e-book, students can order a certification exam booklet by calling 360-902-8555 or emailing [email protected].  The exam booklet provides instructions for taking the exam, where to mail completed exams, and how to apply for a Washington boater education card.
Adventures in Boating Washington e-book is available for the iPad, iPhone, PC and Mac at http://bookstore.kalkomey.com/products/washington-boating-student-manual. The e-book provides information on the following topics:
An introduction to boats and boating terms
Safe boating strategies
Washington state boating laws
Life-saving techniques
Another benefit of Adventures in Boating Washington e-book is that it becomes a useful and convenient resource even after students pass the course. E-books are so much easier to search and navigate than printed copies. Plus, students can create notes in their e-book and bookmark pages that they can quickly refer to, even when they're on the water.
"One of the biggest advantages of purchasing the Adventures in Boating Washington e-book is when something changes, such as a state boating law, you'll receive a notification that a new version of the book is available," said Edward Cossette, user experience director for Kalkomey Enterprises, Inc.
Students who prefer taking the Washington boating safety course online can visit http://www.boat-ed.com/washington/. Students can study the course materials for free, paying only when they pass the test. After passing, the student pays the course fee and prints out the temporary certificate, allowing them to be on the water in a matter of hours.
Washington's boater education law requires all boaters 50 years of age and under operating a powered watercraft of 15hp or greater to take a boating safety course and obtain a boater education card. For more information about Washington boating laws, visit http://www.boat-ed.com/washington/boating_law.html.
Image courtesy Boat-ed