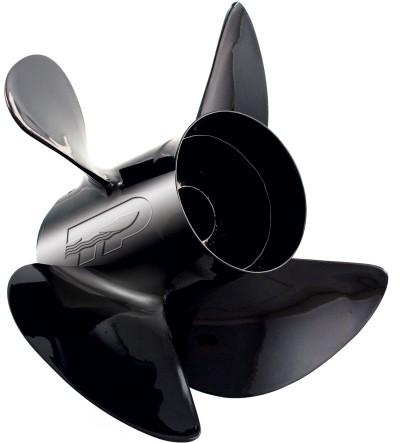 Four-blade propellers outshine their three-blade counterparts when it comes to improving the handling characteristics of a boat. Delivering superior efficiencies and fuel economy, they can enable families to better enjoy watersports or cruising. While stainless steel 4-blade props can cause sticker shock, Turning Point Propellers offers its cutting-edge Hustler aluminum prop series as a solution. Hustler models not only deliver superior performance, but feature an interchangeable hub and housing system for affordable prop changes.
Two powerful 4-blade newcomers to the Hustler line, in 13.25 x 17 and 13 x 19 right-hand configurations, are designed for 40-140 hp outboard engines with 4-1/4″ gearcases. Setting unprecedented performance standards, their innovative blade geometry outperforms most stainless steel props in tests. Boat owners can now gain 4-blade performance with little to no top end speed loss, enhancing their craft with unmatched cornering, acceleration and rough water handling. These Turning Point props also produced up to 46% more reverse thrust than other comparable designs in recent tests.
Tuned vents, a feature derived from race boat-proven technology, increase low speed acceleration and hole shot. Turning Point is the only manufacturer to offer such vents on an aluminum propeller, enabling boats to get on plane faster.
As with all its aluminum propellers, Turning Point manufactures these new Hustler props using an exclusive squeeze casting method. Unlike common die-cast processes, it generates the highest mechanical properties possible from a cast aluminum propeller, creating a tight grain structure. The end result is strong, stiff blades with less flex for maximum thrust and speed.
Hustler props add beauty and style to any boat. The company's exclusive new Ultra Coat powder coat process creates a uniform, glossy finish with more durability and corrosion-resistance than paint.
Turning Point is the only company to offer hub kit and prop housing systems with a lifetime warranty on its hubs. This makes changing out propellers quick and easy, and can save boaters hundreds of dollars in replacements over the years.
The new Turning Point V-4 Hustler 4-blade aluminum props retail for $120 for the propeller housing and $48 for the accompanying 500 series hub kit. In over 15 years of operation, Turning Point Propellers has earned a reputation for designing the highest quality, highest performing aluminum and stainless steel props in the industry. The company's Prop Wizard, the industry's only online pitch calculating tool, guides users to the correct propeller for each engine and boat combination. Prop Wizard is located at www.turningpointpropellers.com.
Image courtesy Martin Flory Group