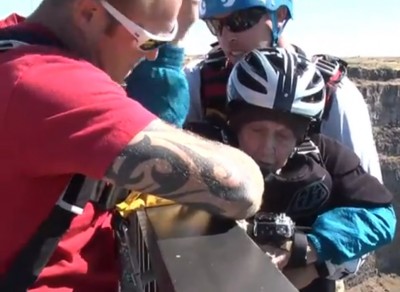 Dorothy Custer proved that age is no hindrance for her by BASE jumping from Idaho's Perrine Bridge May 30 to celebrate her 102nd birthday.
The 586-foot-high jump from Perrine Bridge was performed in a tandem with professional Sean Chuman. Before the jump, he told KMTV.com that, "I'm really excited for her really because I've never met a lady her age that wants to jump off. So if she wants to jump off, I'm excited to do it," he said. "It's going to be really cool."
Custer had originally planned to go sky diving for her birthday, but the cost turned out to be prohibitive: "I was thinking of going to jump out of a plane, but then I found out it was too much," Custer said. "So then I said, 'Forget it, I'll just have a very calm birthday.'"
Instead of a calm birthday though, Custer's relatives urged her to attempt the BASE jump, which you can see in the video below. This fell in line with past birthdays for Custer, as she celebrated her 101st birthday last year by zip-lining in Idaho's Snake River Canyon.
http://youtu.be/VrnGAHMgFTo
When Custer was asked what the secret to her long life was she said simply, "Well, I've often wondered that too, but I've never thought of age." She also said that, "I just went on living and having a good time and doing what was necessary. I don't think of age right now."
Image and video courtesy cbsnewsj24x7