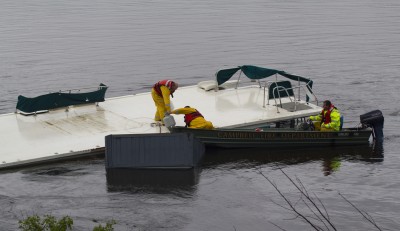 This week I received a notification to photograph a sunken houseboat just outside La Crescent, Minnesota.
According to the Associated Press quoting the Winona County sheriff's office, "A houseboat that went through a lock and dam roller gate and tossed 11 people into the Mississippi River had electrical and mechanical problems that caused its motor to fail."
Several passengers were taken to the hospital for treament. This story hit home because I know the owner of the houseboat rental company, and I myself work and play on the river.
This trip started out like many others, weekend plans of boating and having water fun; but something went terribly wrong for that crew. The engine malfunctioned, eventually pushing the boat into one of the roller gates of lock and dam  number 7.
The crew acted quickly, one of the crew tried to tie off on the pillar next to the roller gate, but failed. Quick thinking from one of the crewmembers saved everyone's life by instructing them to get life jackets on. They quickly evacuated the houseboat onto the chaser boat (a smaller boat that is often tied off to a houseboat) but due to weight and current, the chaser boat capsized and everyone went through the roller gate.
The lock staff got their rescue boat in the water, and the captain from the Best Dam Fishing Float (a fishing float across from the Lock) came over in his pontoon quickly got all eleven passengers out of the water. Six of the eleven went to the hospital for hypothermia and non-life threatening injuries.
This story brings to light something that comes to mind every time I put in: NEVER TAKE THE RIVER FOR GRANTED, especially this time of year when the water is high and unstable.
How to prepare
Always wear your life vest. Last year, I saw a bass boat slam into the side of a flat bottom boat with six passengers–yes, it happens that quickly. Everyone came out all right, shaken but not dead. The bass boater was coming out of plane, and the flat bottom drifted into his blind spot.
Had the passengers not had a life jacket on, or they were knocked unconscious, they would not have had time to put a jacket on in the water or mid collision.
Life vest regulations vary from state to state, so check regulations before going out on the water. But keep in mind; they are useless if they aren't one. According to the U.S. Coastguard, "the only effective life jacket is the one being worn."
Another way to be prepared for catastrophes is to simply talk about it. Granted, it's not very fun to talk about disaster plans, and everyone is itching to hit the water. But holding safety meetings and doing drills is the only way to really know if your plan works.
Always tell people where you are going, and when you plan on being back; and if your plans change–check in. Lastly, keep your cell phone in a waterproof box, there are several good ones on the market. You can also carry it in a Ziploc bag.
Keep in mind that when things go wrong on the water, they go wrong quickly, leaving little time for reaction and action. Keeping safety first in mind could make your summer last a lot longer.
Image by Anthony Larson