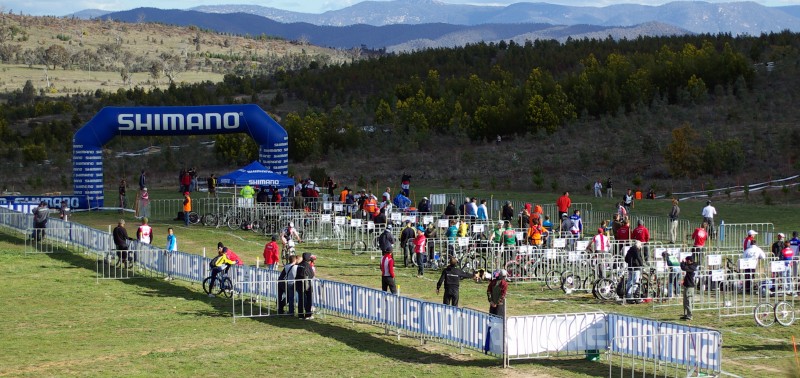 Looking for some off-road competition this summer? Check out some of these mountain bike races to get your fix.
June
L.A. County Over the Hump: This is an eight-race series that started on May 26 and will run through August 15, modeled after the first series that was held in Orange County. The races this summer will be held at Castaic Lake, north of Santa Clarita, and are open to riders of a variety of skill levels. Registration is $160 for a season pass and comes with a t-shirt and Speed Check Easy Registration (while supplies last) which works out to be $25 per race, to be completed online by 5:30 p.m. the night before or $30 the day of. Future race days are May 30, June 6, June 13, July 25, August 1, August 8, and August 15. Registration tables will open at 4 p.m. on race day, with the Kid's Race at 5:30 p.m. and the regular race following at 6 p.m. Race results are posted shortly after the last rider has crossed the finish line.
Gorge Short Track Mt. Bike Series: Located in Cascade Locks, Oregon, this is also a series spanning five weeks with future race dates of May 30, June 6, and June 13. Registration is $80 for adults competing in all races, $20 preregistration per adult, $25 day-of registration per adult, $40 for juniors (18 and under) competing in all races, $10 preregistration per junior, and $15 day-of registration per junior. Because of the extensive categories offered, there are a number of race start times. The EasyClimb Trail spans through the differing environments of the Columbia Gorge. There is less than 200 feet of climbing to complete and the race should take between 20-50 minutes depending on the rider. This is a great choice for beginners, as there is enough rough terrain to get accustomed to racing, but is without steep climbs or anything too dangerous.
Wilmington Whiteface Bike Fest: Scheduled for June 14-16, this race is located in Wilmington, New York and offers a weekend full of activities. The 12th Annual Whiteface Mountain Uphill Bike Race will begin at 8 a.m. on Saturday and, following the Whiteface Mountain Veterans Memorial Highway, is part of the Bike Up the Mountain Point 10-race series in the northeast. On Sunday, the 3rd Annual Wilmington/Whiteface 100k Mountain Bike Race will begin at 7 a.m., which is a qualifier for the Leadville Trail 100, one of the most challenging mountain bike races in the U.S. For those not ready for the 100k, there is the option to participate in the 50k as a pair.
NEMBAfest at Kingdom Trails: This race will be held June 21-23 at the Burke Mountain Ski Resort in East Burke, Vermont. Registration is available online and is currently discounted to $129. NEMBA, the New England Mountain Bicycling Association, helps to host more than 1,000 rides per year and this race is part of the Kona Bicycles MTB Adventure Series. This weekend event is complete with camping, music, group rides, a bike expo, and more.
True Grit Ride 100: For those looking for a non-competitive ride, check out this event on June 22 at Ben Geren Park in Fort Smith, Arkansas. Rides span from 10 to 100 miles, so those participating with have a variety of lengths to choose from. There are food/water/aid stations places about every 10 miles apart on the ride, and proceeds benefit the ride's host, Community Services Clearinghouse Guild. The non-profit organization provides emergency assistance to children and families in seven counties in Arkansas and Oklahoma. The race begins at 7 a.m. with a cookout for all riders following the race. For registration prices, visit the ride's website.
24 Hours of Mass Destruction: This race will be held June 28-30 in Port Gamble, Washington on the Kitsap Peninsula. Registration is $150 per rider and there are other registration categories that include pairs and larger groups, but the total number of riders is limited to 500. The race uses the Stottlemeyer trail system and caters to those who enjoy more of a challenge with 25 miles to trails. The 24-hour race begins at 11 a.m. on Saturday and ends at 11 a.m. on Sunday.
The Ride Sun Valley Bike Festival: Held June 29-July 7, this race is located in Sun Valley, Idaho and features the USA Cycling National Championships in Marathon Mountain Biking. There is more than 400 miles of continuous single-track, with two bike parks and 32 miles of paved paths. The Sun Valley Super Enduro is a two-day race that will cover four trails. Early registration is $80, $100 if completed between June 3-July 2 and $120 on site. Riders must have an up to date USA Cycling Mountain Bike annual license.
July
Dirt Fondo: Registration is now open for the July 6 race in Cedar City, Utah. Fees depend on whether the rider is competing in the 25 km, 60 km, or 100 km race and prices increase as the event nears. There is an 8 a.m. start time and as with the Wilmington/Whiteface 100k Mountain Bike Race, qualifiers for the Leadville Trail 100 will be announced during the presentation of the 100k awards.
Leadville Silver Rush MTB Race: Located in Leadville, Colorado and known for some of the most extreme mountain biking terrains, this race is described as an intense ride. The July 7-12 event is a 50-mile course in the historic mining area of Leadville. It starts at Cloud City Ski Hut and ends in the same location.
Tahoe Trail 100k: The July 20 race is on the border of Nevada and California on the Sierra Nevada, giving riders a beautiful view during the race. A variety of options are giving for completing this race, from completing 50k and being considered a finisher to pairing up for either 50k or 100k. Tandem bikes are also an option.
Palos Meltdown:This race is Chicago's well-known mountain bike race that will be held on July 21. This single-track will wind down hills, around lakes, and have plenty of ascents and descents. This year marks the seventh annual event and it's open to an array of age groups. 
Mammoth 24-Hour Mountain Bike Race: The July 27-28 race will be held in Mammoth Lakes, California and registration is currently open with a variety of prices depending on the rider(s). Up to 1,500 racers are allowed and prices can be found on the website.
August
Leadville Trail 100: This is the race of all races that will be held on August 10 in Leadville, Colorado. This extreme race is selective in its registration, as even those who have qualified are still placed in a lottery to see if they will compete. Riders were informed in February of their participation. This is a 100-mile course in the middle of the Colorado Rockies and it is a popular goal set by expert riders in the sport.
Sub-9 Super D: This year is the fourth annual event complete with a camping experience on August 18 in Brown County State Park in Nashville, Indiana. The trail system houses more than 25 miles of trails designed specifically for mountain bikers. A number of race categories are provided, so visit the website to find what one works for you.
Camp Tahquitz Enduro: In Angelus Oaks, California, this race will be held August 24-25 and begins Saturday at 9 a.m.
Image from Steve Bennett on the Wikimedia Commons