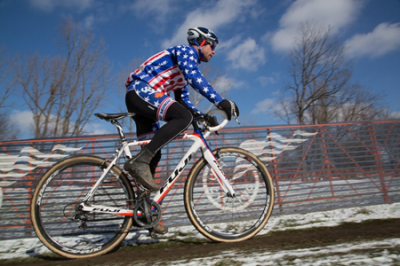 4-Time CX National Champion brings experience, talent, and nose for the podium as new ambassabor of specialty online retailer.
The parallels between online specialty retailer of road and mountain bike gear Competitive Cyclist and cyclocross stud Jonathan Page are evident. Both are leaders in their respective disciplines, versatile operators, and illustrate unmatched enthusiasm for the sport of cycling. Today, the two grow closer as Competitive Cyclist welcomes Page to the family as brand ambassador.
"Jonathan is a perfect fit for Competitive on many levels – he's the consummate professional, loves ice cream, and is a complete animal on the bike," said Jonny Atencio, Sports Marketing Manager at Competitive Cyclist and Backcountry.com. "Jonathan has logged countless hours and miles on his bike, and stood on many podiums. We're now excited and looking forward to sharing these feats with him as part of the Competitive family."
Not only does Page bring his prolific cyclocross racing resume to Competitive Cyclist, but also local flavor living in Kamas, Utah – only 16 miles from the Competitive headquarters in Park City. A dominant American professional cyclocross racer for more than a decade, the foundations of Page's racing career are determination and diligent training – which has led to stacks of podium finishes. Cyclocross requires the mastery of both mountain and road bike racing, and Page demonstrates a true expertise of the sport of cycling in its entirety.
Bursting onto the scene in 2002, Page took first place in the USA Cycling Cyclocross National Championships. He then went on to defend his title the following two years. From 2006-2012, Page posted four top-five finishes until his most recent victory in the 2013 National Championships in January. Page also races extensively in Europe while living in Belgium part of the year.
"I feel like I am part of a community of not just local cyclists, but outdoor enthusiasts just like me," said Page. "This partnership with Competitive Cyclist is an amazing opportunity for me both on and off the bike. It's an ideal fit for my lifestyle and helps fuel my passion for the outdoors – and specifically, riding my bike."
Raised in the hills of New Hampshire, Page is an avid outdoorsmen who enjoys time in the mountains. He enjoys grinding on the dirt with his bike just as much as slashing turns skiing powder. As an athlete that trains just as hard during the off-season as he does during the cycling season, Page has earned a household name reputation in the sport of cyclocross.
As an ambassador for Competitive Cyclist, Page will represent the brand at races with his custom kit. His race experiences and riding tips can be learned through his personal profile page on Competitive Cyclist, while his knowledge of cycling gear can be found on product pages throughout the site in the form of reviews. Competitive Cyclist will offer a feature that tracks Page's travels and racing throughout the year, and Page will be interacting and engaging with the Competitive Cyclist community helping to continue the brand's leadership in the industry.
Page's other sponsors include: FUJI, SPY, Shimano, Lazer, ClifBar, Challenge, and Sommerville Sports.
For more information about Competitive Cyclist, visit: http://www.competitivecyclist.com/
Image courtesy Verde PR & Consulting