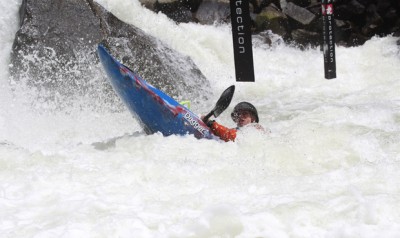 World-class paddlers will descend challenging rapids on the Payette River.
Last year, James Byrd of Boise created one of the biggest whitewater events ever in a state with a long history of big whitewater events.
The goal of the North Fork Championship was simple: Invite some of the best paddlers in the world to race through the hardest rapids in one the West's most challenging rivers – the North Fork of the Payette upstream from Banks.
It wildly succeeded. Byrd is back for an encore. He's adding a new event this year to further boost the adrenaline.
The "boatercross" race will be a head-to-head downriver race through S-Turn rapid about 12 miles north of Banks near Big Eddy Campground. There will be four heats of 15 paddlers racing and bumping through the rapid.
The top three in each heat will advance to the finals through the same course to crown the boatercross champion.
Last year's North Fork Championship not only attracted top athletes and had hundreds of spectators lining the banks of the North Fork on a chilly, rainy day, the echoes of enthusiasm reverberated far beyond Banks.
"The world's best kayakers met on one of Earth's toughest whitewater runs to test themselves and push the limits of the sport," former Boisean Joe Carberry wrote in Canoe and Kayak magazine. "It was a pinnacle moment. And everybody knew it."
This year, the North Fork Championship II is attracting paddlers from as far away as Europe.
But the event is more than a race, it's a whitewater festival and an opportunity to see some amazing athletes challenge a devilishly tricky river.
Last year, I remember sitting in a rainstorm transfixed by the talent that rushed downstream.
The paddlers had just launched off a wooden ramp and splashed into the river with water barely clearing their eyes before they plunged into the Class V whitewater maelstrom known as Jacob's Ladder.
They charged toward an exposed rock, the crux move in the heart of Jacob's Ladder, before dropping over a ledge where the river boiled like a pan of milk on a stove left on high.
They had to catch an eddy, duck behind a slalom gate and continue downstream through another rapid – Golf Course – so named because it is ridden with holes and nearly all of them capable of devouring a kayak.
The North Fork Championship brought back memories for me. For years, I traveled around the Northwest paddling different rivers and attending whitewater events.
One thing that always impressed me was how the best paddlers were casual and friendly, but when they got on the water, they put on a clinic on what's possible in a kayak.
It motivated me to get better. I eventually paddled the North Fork and joined that informal, elite fraternity of kayakers for a brief and shining moment.
So I couldn't help glancing at the rows of people lining the North Fork and wondering how many young paddlers were soaking up the vicarious thrills of such intense whitewater and silently setting goals.
But even if you never dreamed of paddling a Class V rapid or even climbing into a kayak and snapping on a spray skirt, the North Fork Championship is worth a look.
It starts on dry land and a weatherproof setting in the Egyptian Theatre in Boise. There will be a series of short kayaking films shown at the Melt Awards, as well as a display of whitewater photographs.
People who attend the event get to vote on their favorites.
The paddling competition gets underway on Thursday, June 6, with a qualifying race for any paddlers who think they have the chops to chase the big dogs.
They will race for five "wild card" spots in the elite competition.
Interspersed throughout the North Fork Championship will be parties in Crouch with vendor booths, food, drinks, dancing and other activities.
If last year's event is any indicator, there's going to be more amazing kayaking as the North Fork throws its heavyweight haymakers at a group of immensely talented athletes who parry the river's fury with nothing but a paddle.
You won't want to miss it.
SCHEDULE
Thursday, June 6
Qualifier race, 11 a.m., Three miles upstream from Banks Bridge.

The Melt Awards, 6 p.m., kayaking video and photography contest (films start at 7 p.m.), Egyptian Theatre, 700 W. Main St., Boise.
Friday, June 7
Boatercross/enduro race, 5 p.m., on S-Turn rapid of the North Fork of the Payette River, north of Banks at milepost 90 on Idaho 55.

8 p.m. to 10 p.m., Sponsorship Shoutout party and music in Weilmunster Park, and DJ Revolve show at the Dirty Shame Saloon in Crouch.
Saturday, June 8
Elite race, noon. (Get there early to get a prime rock for spectating.)

Stoke Float begins post race. Open to any paddler who feels comfortable on the North Fork to join the elite paddlers down to Banks bridge.

7 p.m., food available at Weilmunster Park in Crouch and on sale to the public.

North Fork Championship Awards Ceremony, 8 p.m., Weilmunster Park.

Disco party, 10 p.m, Dirty Shame Saloon in Crouch.
This article originally appeared on Idaho Statesman and is republished here with permission.
Image courtesy Roger Phillips