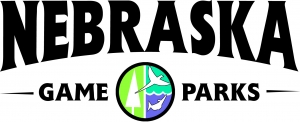 A ribbon cutting for the new Cowboy Trail Bridge near Norfolk is set for June 1 at 10:30 a.m.
The Cowboy Trail Bridge, formally known as Broken Bridge, spans 200 feet across the Elkhorn River and is designed to look similar to the historic trestle railroad bridge that was washed out during the 2010 flood.
The event will be preceded by fun and educational activities along the trail beginning at TaHaZouka Park in Norfolk. Participants can begin at the TaHaZouka trailhead at 9 a.m. and bike, hike or run the 3½ miles to the bridge. Informational booths and activities along the trail include geocaching, bike safety and maintenance, fishing, birding, and healthy living tips; geocaching participants must bring a GPS or smartphone. Visitors also may drive to the trail parking lot on Broken Bridge Road; refreshments and snacks will be served. From there, they may visit the bird-watching station 1 mile east on the trail and/or the ribbon cutting one-quarter mile west at 10:30 a.m.
Logo courtesy Nebraska Games & Parks Commission