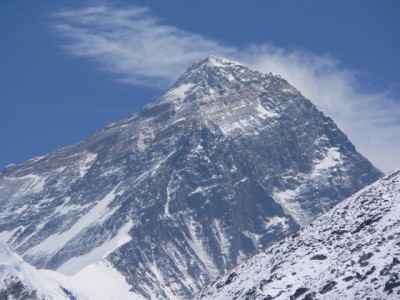 There is a line at the top of Mount Everest, and mountaineering officials think a ladder to the summit will solve that problem.
The proposed ladder would run from Hillary Step–known for its forty feet of almost vertical rock face at 29,000 feet above the Earth's surface–to the summit of the legendary mountain, to aid in easing congestion.
For those who see the ladder as an easy way out of climbing the last forty feet there is no need to worry, as the ladder would only be used for descents. Dawa Steven Sherpa, who runs commercial expeditions on Everest, told The Guardian that, "Most of the traffic jams are at the Hillary Step because only one person can go up or down. If you have people waiting two, three or even four hours that means lots of exposure [to risk]. To make the climbing easier, that would be wrong. But this is a safety feature."
The president of the International Mountaineering and Climbing Federation Frits Vrijandt told The Guardian that the proposed ladder could help to solve the problem of an increasing number of climbers on Mount Everest, without compromising the integrity of the climb.