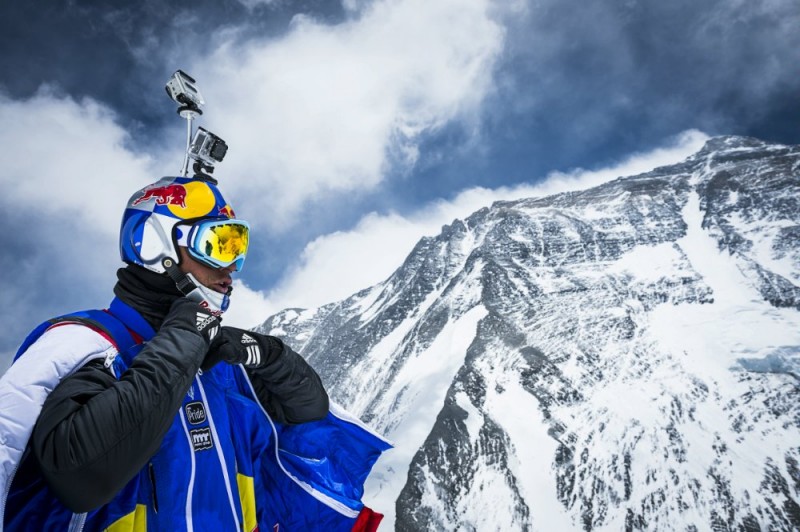 Russian adventurer and extreme sport enthusiast Valery Rozov has an estimated 10,000 BASE jumps under his belt, including one in 2009 when he jumped into an active volcano in the Kamchatka Peninsula. These however, are dwarfed by his latest accomplishment. According to a Red Bull release, on May 5 Rozov made a jump from Mount Everest at an altitude of 7,220 meters, flying for a full minute at over 124 mph before landing on the Rongbuk Glacier.
The feat was attempted during one of the busiest seasons Everest has seen with scores of new and veteran climbers reaching the mountain summit over the past month, including Yuichiro Miura of Japan, who reclaimed his title as the oldest man to reach the top of Everest at the age of 80. This year also marked the first video call made from the summit as well as the first pair of twins to complete the climb. The month of May is also notable in that it marked 60 years since Edmund Hillary and Tenzing Norgay became the first climbers to summit the mountain. It is a momentous anniversary for both the mountain and those that seek its challenges. Rozov, like many other of Everest's temporary denizens, saw fit to pay tribute to the occasion with an extraordinary feat.
It took Rozov two years to prepare for the jump, which required specific conditions and a custom-designed wingsuit. It would be a world record if Rozov succeeded, but the dangerous conditions on Everest left little room for error. The BASE jumper was familiar with the Himalayas, having previously jumped from nearby Shivling Mountain. The weather at the top of the world is hardly ideal for flight. It took Rozov and his team, which included sherpas and a camera crew, four days to reach the jump location from base camp. There, Rozov made the decision to attempt the jump despite rough weather and -18 degrees Celsius temperatures. He and his team waited three weeks in the Himalayas for this one opportunity, and he was not about to let it escape now.
You can see video of the jump below:
"Only when I got back home did I see how hard it was for me both physically and psychologically," said Rozov after arriving home in Russia. "When you look at the videos you realize that it took a lot longer than usual to get from falling to flying."
In addition to now holding the world record for the highest BASE jump, Rozov is a world champion sky surfer and 1998 X-Games winner. Rozov also enjoys snowboarding and diving when he is not launching himself from the tallest thing he can find.
Image by Thomas Senf/Red Bull Content Pool