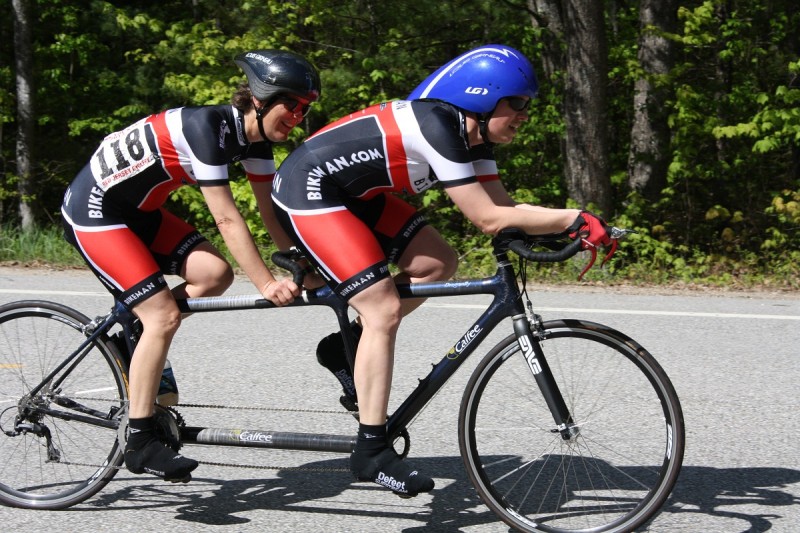 It is a rolling rite of spring.
For nearly a generation, cyclists of all abilities and on various rigs from tandems to singlespeeds converge on a large section of the most popular public roadway in New Hampshire's White Mountains, and for one May morning, turn it into a race course.
On a recent Saturday morning, white-knuckled drivers and pumped up riders shared a 21-mile chunk of the meandering Kancamagus Highway along the fast-flowing Swift River during the 29th Crank the Kanc time trial hill climb won by Timothy Ahearn of Woodstock, Connecticut in 58:02.56.
The Kanc and its 2,300 vertical feet to the top of 2,860-foot-tall Kancamagus Pass is a coveted climb in the New England cycling world and contains multiple personalities: time trial, training ride, and long-distance recreational spin.
The scenic road cuts through the White Mountain National Forest between Conway and Lincoln (34 miles), containing trails, campgrounds, and other interests.
But it is also a personal challenge.
For Jim Soroka, a North Conway triathlete competing in last year's Ironman Triathlon World Championship in Hawaii, the race was a way for him to judge how the healing process is going on a nagging Achilles tendon injury.
Normally, Soroka likes to ride the course in about 1:23 but with that injury race day was only the second time he'd been on the bike his season. He was unsure if he would even finish the race.
He did in 1:24:27.2.
"It's a hard ride no matter how you slice it," he said. "It's uphill the whole way and you don't get much relief."
The average grade along the way is a fairly descent grade of 2.2 percent, but it's the last portion with a maximum grade of 9 percent that tests and punishes cyclists.
He said the business end of it, the last five miles, is a killer.
After race day, the Kanc's a great piece of his training rides.
"It's in my quiver of rides to ride. It's one of my favorites too," he said, with a goal of competing in September's Half Ironman in Henderson, Nevada.
Jackson's Steve Vosburgh is a Nordic ski and triathlete coach. He approaches the time trail as a ride of efficiency.
"It's just kind of riding at the level of my fitness right now," he said. "I haven't had a lot of road miles so far this season. So every single ride I do is like this is the edge. Try to ride as close to the edge as I can."
Vosburgh calls the road a "phenomenal training course." Though he can ride it any day, race day means pulling a little bit more out of himself.
"This course is a super challenging one," he said. "It's like putting a time trial course with a hill climb at the end. You get a hill climb and a time trial in the same race. That's unusual."
He finished in 1:26:48.
North Conway's Peter Donohoe, a vigorous weekend rider, was in his fourth Crank the Kanc.
"The road is no different on race day," says Donohoe. "It's great every time whether you are racing or riding.
He finished in 1:39:09. But that doesn't matter much to a recreational rider like Donohoe.
Images by Marty Basch