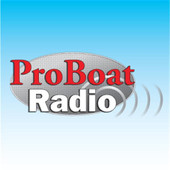 At IBEX 2013, the Landing School will offer a free presentation on "The Evolution, Design, and Build of the Flyfisher 22" a cold-molded center-console boat built at the school.
With input from the head product developer and head marketing staff at the LL Bean hunting and fishing division, as well as several flyfishing guides, The Landing School and Van Dam Custom Boats developed custom plans for this boat, which was constructed by students at the school.
During this show, host Ann Avary will talk to Barry Acker and Jamie Houtz about this project, how it fits into the school's over all curriculum, and what what else is going on at The Landing School. Tune in for details!
Logo courtesy ProBoat Radio