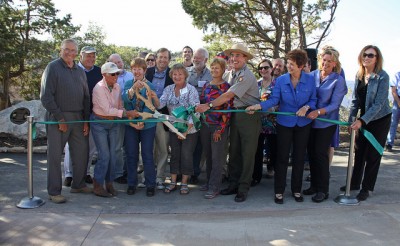 On Saturday, May 18th, 2013, over 500 people gathered to celebrate the trailhead renovation of one of Grand Canyon National Park's oldest and most visited trails. The dedication ceremony, celebrated jointly by Grand Canyon National Park and the Grand Canyon Association was opened with a traditional welcome by tribal representative, Diana Sue Uquala from the Havasu nation. Superintendent Dave Uberuaga spoke of the significance of the renovations to the historic trail that included a new seating area and plaza, new restrooms to replace portable toilets, paved parking, new stone masonry walls, accessible walkways, and a new identity sign.
The project was overseen by Grand Canyon National Park Project Manager, Vicky Stinson with construction completed by Merrill, Inc., out of Cheyenne, WY. Chevo Studios and Rock & Co., both from Denver, CO, built the stone masonry walls, seating areas and the new identity sign.
The project was funded jointly by park entrance fees and private funds raised through the park's official fundraising partner, the Grand Canyon Association.
Major donors to the project were recognized at the event including:
Liz and Bill Sweeney

Craig and Sally Clayton

Ken and Dorothy Lamm

Robert and Ellen Hostetler

Mr. and Mrs. John R. Rockwell

Penny Schultz

Horejsi Charitable Foundation

American Express

Cal and Barbara Banker
Bill Sweeney, a major donor to the Bright Angel trailhead renovation announced a matching gift of $15,000 to support the renovation of the Historic Kolb Studios which is on the South Rim of Grand Canyon. The match was made in 2 hours and the Sweeney's raised their matching gift to $25,000 which was matched by the end of the weekend.
"We appreciate the funding that was made available through generous donors that made the completion of the Bright Angel Trailhead Rehabilitation Project possible. We also greatly appreciate the donations made in support of the renovation of the Historic Kolb Studios, stated Superintendent Uberuaga. "Because of their generosity we have been able to bring the area around the Bright Angel Trailhead up to modern standards, and will be able to make great improvements to Kolb Studio, a facility visited by thousands of park visitors each year."
Image courtesy National Park Service