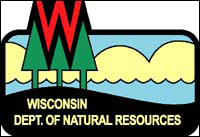 People looking for available campsites in the Northern Highland-American Legion State Forest, Wisconsin's largest state forest with nearly 900 available campsites, can now check campsite availability online, or if they have an iPhone, by using a newly available app.
There are four modern family campgrounds in the Northern Highland-American Legion State Forest: Crystal Lake, Big Musky, Firefly and Clear Lake that have paved roadways, flush toilets and showers but no electrical hookups. The majority of the 351 campsites in these campgrounds can be reserved through the camping online reservation system or by phone. But there are hundreds of other campsite at smaller campgrounds spread out through the state forest that are mostly available on a first-come, first serve basis.
Typically, these campgrounds range from about 20 to 70 campsites, usually having a wider spacing than modern campgrounds. They have only minimal facilities including hand-pumped water, pit toilets and no electricity.
"Many campers feel offering this traditional style of camping is a special niche for the state forests," says Kimberly Krawczyk, a recreational specialist for the forest. "But in the past, the only way someone knew if any of these sites are available is by showing up and check "You could call to see if anything was available, but if you were driving from southern Wisconsin, the sites could fill up before you arrived."
Forest staff will update the campground availability throughout the forest throughout the day to keep the website and iPhone app data as current as possible.
Now people can go online or check their iPhone and see how many campsites are available for that day. The availability is only good for that day on sites that are reservable, as sites could be reserved the following day. Non-reservable sites can be booked for up to two weeks.
People can also check availability of reservable campsites through the reservation system website, by entering the dates they are interested in camping as well as by campground.
The app is available by searching the Apples App Store with an iPhone or iPad for "NHAL" (free download). For more information on camping in the forest the search the DNR website for "Northern Highland," and then click on the link in the right-hand column for "campground availability." For more information on the campgrounds, click on the link for "camping information."
Logo courtesy Wisconsin Department of Natural Resources