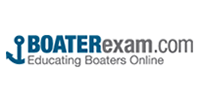 BOATERexam.com has extended its National Safe Boating Week promotion through the Memorial Day weekend after registrations for its NASBLA-approved online boating safety course more than doubled over its weekend launch.
"We wanted to raise awareness about the importance of boating education and to encourage boaters to complete mandatory safety certifications before the start of boating season," says Kerry Moher of BOATERexam.com. "The response has been fantastic, so we're extending the offer over the long weekend so that more boaters can take advantage of it."
All boaters who register at BOATERexam.com before May 27th, and complete their course by May 31st, 2013, will receive 33% off the cost of the approved online course.
Most states now require at least some boaters to complete an approved boating safety course before operating a powered watercraft. Statistics suggest these laws are proving effective. The U.S. Coast Guard recently reported that 2012 was the lowest year on record for recreational boating fatalities. Of these only 9% occurred on a boat where the operator had taken a NASBLA-approved boating safety course.
"We know that boating education is reducing serious boating accidents and fatalities," continues Moher. "By encouraging more boaters to take a safety course, we're hoping to make 2013 the safest year ever."
To sign up for the online course or to find out more about state-by-state education requirements, visit www.boaterexam.com/usa/.
Logo courtesy Fresh Air Educators