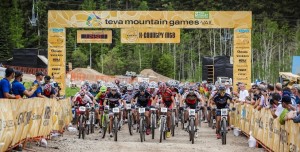 On June 8, some of the country's best mountain bikers will line up to race at the GoPro Mountain Games on Vail Mountain. The start list includes Olympic medalists, world cup racers and national champions.
The favorite in the women's race will likely be 2012 Olympic bronze medalist and three-time Mountain Games champion, Georgia Gould (Luna Chix) who is taking time out of her World Cup race schedule to compete again in Vail. The list of ladies working to dethrone Gould and take home the $3,000 first place prize includes her Luna teammate Teal Stetson-Lee, Heather Irmiger (Trek), Erin Huck (Tokyo Joes), Judy Freeman (Crank Brothers) and Vail Valley local Gretchen Reeves (Tokyo Joes).
The men's field is also stacked with Olympians and national champions including Todd Wells (Specialized) and Jeremy Horgan-Kobelski (Trek). Joining them will be Ben Sonntag (American Interbanc/Cannondale) and Colin Cares (Kenda-Felt) who are both off to fast starts this season, as well as young guns Fernando Riveros Paez (Rotor USA/Twenty2 Cycles) and Keegan Swirbul (Orbea-Tuff Shed). Locals Jay Henry (Tokyo Joes) and Jake Wells (NoTubes/Twenty2 Cycles) will also be contenders with home field advantage on the challenging Vail Mountain course.
"I look forward to the Mountain Games in Vail every year," says five-time champion Jeremy Horgan-Kobelski. "It's become one of my favorite races. It's unique to have so many different events together in one place and I love the energy of the weekend and festival atmosphere. The MTB course is a great one, and I'm excited to be there again in 2013."
Image courtesy Backbone Media