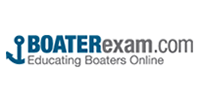 To help boaters get prepared for summer boating season, BOATERexam.com has lowered the cost of its NASBLA-approved online boating safety course during National Safe Boating Week, which runs until May 24th, 2013.
Students who register at BOATERexam.com between May 17th and May 25th, and who complete their course by the end of May 2013, will receive 33% off their online boating safety certification. BOATERexam.com is encouraging state agencies, marinas, and other boating organizations to spread the word about the campaign.
Most states now require at least some boaters to complete an approved boating safety course before operating a powered watercraft. U.S. Coast Guard statistics suggest boating education laws are having the desired effect. 2012 was recently reported as the lowest year on record for recreational boating fatalities, and only 9% occurred on a boat where the operator had taken a NASBLA-approved boating safety course.
To sign up for an approved online boating safety course, or to find out more about state-by-state education requirements, visit www.boaterexam.com/usa/.
Logo courtesy Fresh Air Educators